Imagine seeing a giant wolf put on a bathrobe and turn into your mom. This is exactly how Artie Irvin discovered that she comes from a line of werewolves in the latest Big Library Read pick, Artie and the Wolf Moon by Olivia Stephens. As part of the global virtual book club, you can borrow the ebook or audiobook for young readers from your library from Nov. 2-16 with no holds or waitlists.
---
"...a heartfelt, magical family drama you can really sink your teeth into." - Nilah Magruder
---
Written as a graphic novel, this 2021 middle-grade fantasy pick has been called "a heartfelt, magical family drama you can really sink your teeth into" and is perfect for fans of Neil Gaiman or anyone who likes coming-of-age stories or tales of supernatural adventure.
Your local book club gone global
Here's how you can participate:
💳 Grab your library card (or stop by your local branch to get one!)
📲 Download the free Libby app on your phone or tablet
📚 🎧 Borrow the ebook or audiobook (no waiting!)
🎁 Use #biglibraryread for a chance to win prizes
💬 Share your thoughts on the discussion board
✨ Check out bonus material like a letter from the author and reader group guide
More about Artie and the Wolf Moon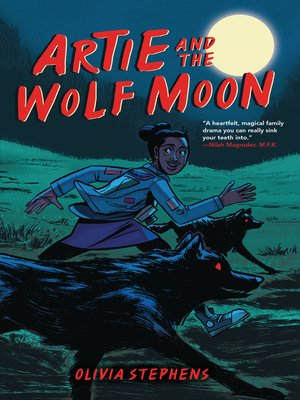 After sneaking out against her mother's wishes, Artie Irvin spots a massive wolf—then watches it don a bathrobe and transform into her mom. Thrilled to discover she comes from a line of werewolves, Artie asks her mom to share everything—including the story of Artie's late father. Her mom reluctantly agrees. And to help Artie figure out her own wolflike abilities, her mom recruits some old family friends. Artie thrives in her new community and even develops a crush on her new friend, Maya. But as she learns the history of werewolves and her own parents' past, she'll find that wolves aren't the scariest thing in the woods—vampires are.
Artie and the Wolf Moon read-alikes
Finished early and want more? Check out these books similar to Artie and the Wolf Moon:

The Devouring Wolf by Natalie C. Parker
It's the eve of the first full moon of summer and 12-year-old Riley Callahan is ready to turn into a wolf. But then the unthink-able happens—something that violates every rule of wolf magic—Riley and four other kids don't shift. And to make matters far worse, it appears something was awoken in the woods that same night. The Devouring Wolf. It's real and it's after Riley and her friends.
Nayra and the Djinn by Iasmin Omar Ata
Nothing is going right for Nayra. Just when she's considering transferring schools to escape it all, a mysterious djinn named Marjan appears. As a djinn, a mythical being in Islamic folklore, Marjan uses their powers and wisdom to help Nayra navigate her overwhelming life. But Marjan's past is fraught with secrets, guilt and trouble, and if they don't face what they've done, Nayra could pay the price.
The Okay Witch by Emma Steinkellner
Thirteen-year-old Moth Hush loves all things witchy. But she's about to discover that witches aren't just the stuff of movies. When some 8th grade bullies try to ruin her Halloween, something really strange happens. It turns out that Founder's Bluff, Massachusetts, has a centuries-old history of witch drama. And, surprise: Moth's family is at the center of it all! When Moth's new powers show up, things get totally out-of-control. Secrets surface from generations past as Moth unravels the complicated legacy at the heart of her town, her family and herself.
The Witch Boy by Molly Knox Ostertag
In 13-year-old Aster's family, all the girls are raised to be witches, while boys grow up to be shapeshifters. Anyone who dares cross those lines is exiled. Unfortunately for Aster, he still hasn't shifted and he's still fascinated by witchery, no matter how forbidden it might be. When a mysterious danger threatens the other boys, Aster knows he can help—as a witch. It will take the encouragement of a new friend, the non-magical and non-conforming Charlie, to convince Aster to try practicing his skills. And it will require even more courage to save his family and be truly himself.
---
Don't miss out! Subscribe to Libby Life to get updates on the next Big Library Read book club pick.