Did you know the Libby app has a Support team? They're there to help if you have any questions about Libby. Their job is to make your reading experience as easy and enjoyable as possible, so we asked: What are the most frequently asked questions you receive from Libby users? They answered! Check out their responses below, and click the linked Help articles for even more info.
Ready? Let's go!
Q: What devices are compatible with Libby? Can I use multiple devices with Libby?
You can download the Libby app on:
iOS devices running iOS10 or newer
Android devices running Android 5.0 or newer
Newer Fire tablets (full list on Libby Help)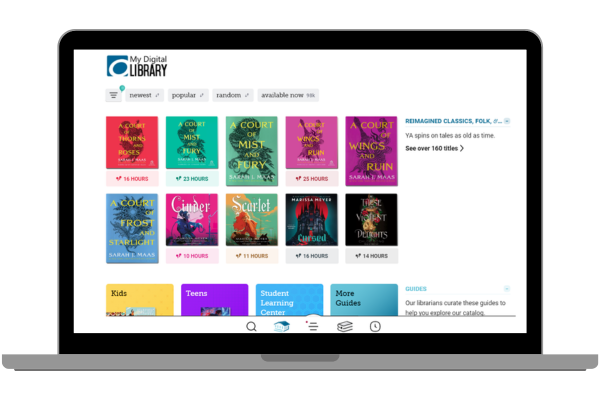 You can also access Libby through your web browser by going to libbyapp.com.
Libby works great on multiple devices. I strongly recommend using a setup code to set up Libby on additional devices. This copies your library cards, loans, holds and tags to another device in a few quick steps.
Q: Is Libby free?
Yes, Libby is completely free. The app is free to install and the digital content from your library is free with a valid library card. If you're enjoying Libby, thank a member of your local library staff; the important work they do is what makes Libby possible!
Q: Can I have library cards from multiple libraries?
You bet! It's easy to add a card from another library in Libby. Once you do, you can see if a title is available at any of your libraries.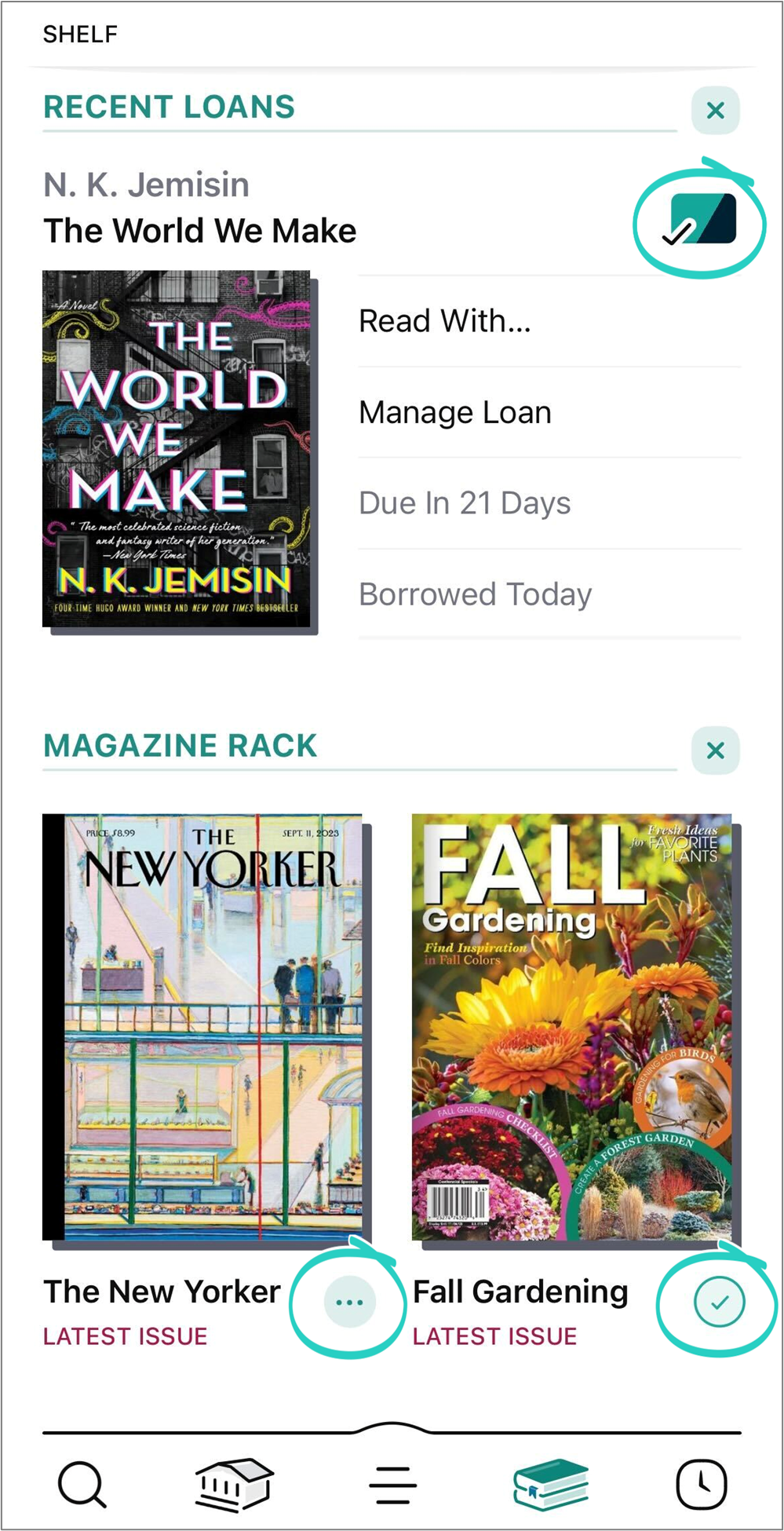 Q: How can I make sure that my titles are downloaded to my device?
On your Shelf, books and audiobooks will have a card-and-checkmark icon if they are downloaded or a cloud icon if they aren't.
Magazines will have a checkmark icon if they're downloaded or a three-dot icon If they aren't.
By default, Libby will try to download your book and audiobook loans when you have a Wi-Fi connection. You can customize your download preferences by going to Menu > Settings > Change Download Rules. Magazines aren't automatically downloaded to save space on your device, but you can manually download any magazine issue your library offers.
Q: How do I send titles to Kindle?
If you belong to a U.S. library, you can send a book to your Kindle by tapping Read With… next to the loan on your Shelf, then selecting Kindle. You'll then be taken to Amazon's website to sign into your Amazon account and finish the delivery. There's lots of good info in the Kindle Books section of Libby Help.
Q: How can I recommend a title to my library?
Short answer: With a combination of deep search and a Notify Me smart tag.
Longer answer: Check out this Libby Life post or this Libby Help article.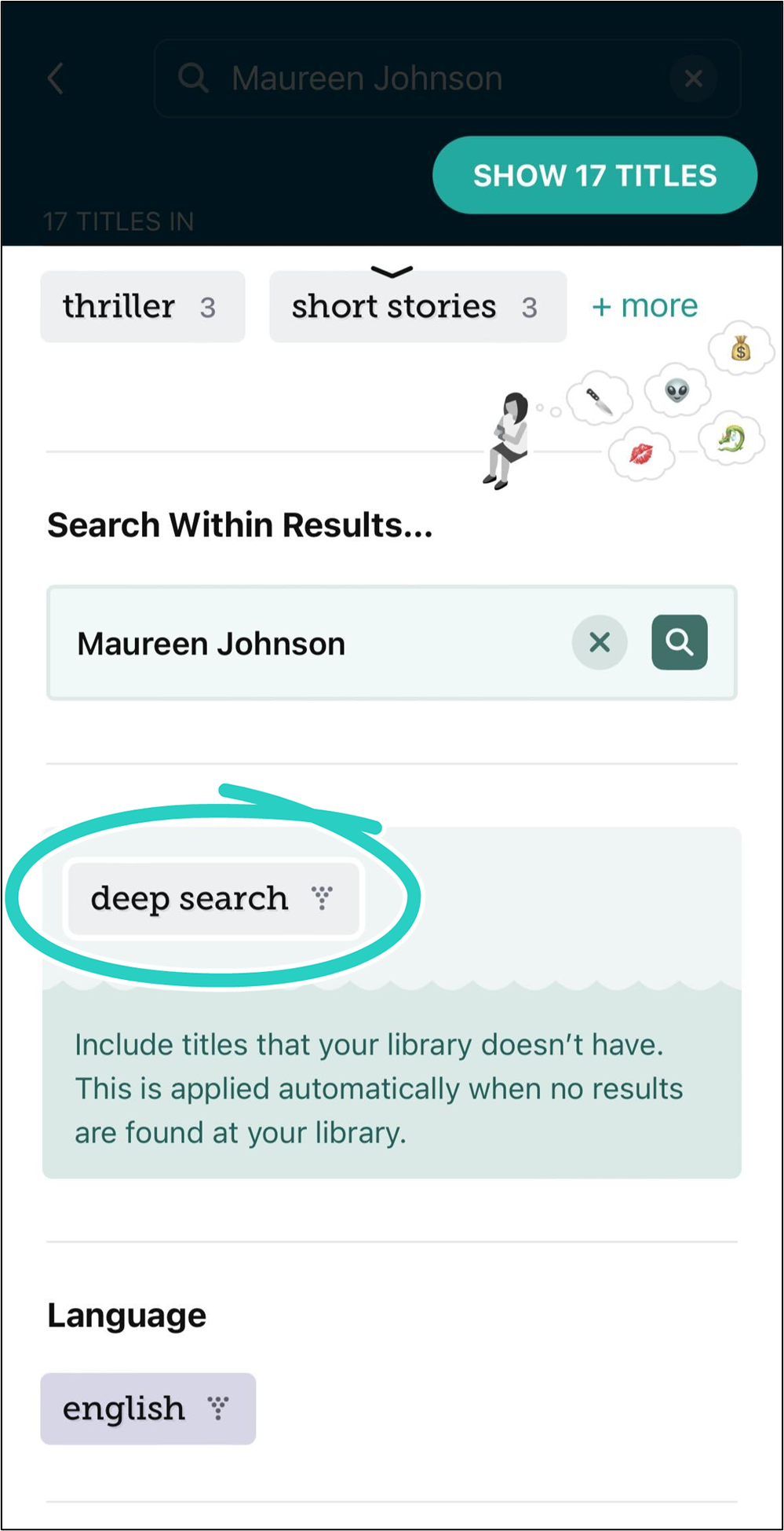 Q: I can't find the title I'm looking for when I'm searching. What should I do?
If your library offers it, try a deep search. Deep searching is the same method used when recommending a title to your library. It allows you to discover titles that aren't part of your library's collection.
Q: Is there a way that I can only see audiobooks/books/magazines when I search my library?
Yes, with filters! You can pin a filter to automatically apply it to your future searches.
Q: How can I be notified when holds are ready?
On Android and iOS, with in-app or push notifications.
On Fire tablets or in a web browser, with email or in-app notifications.
Though push notifications are recommended for the Libby mobile app, you do also have the option to setup email notifications through the mobile app, if you'd like.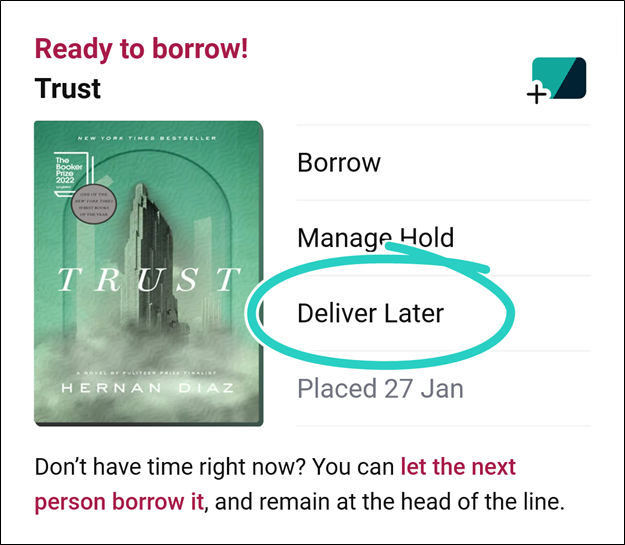 Q: How long do I have to claim an available hold?
You have 72 hours. If you aren't ready to read the book yet, you can deliver the hold later.
Q: How is wait time and position calculated?
In most cases, this works the same way it does for physical books. Wait time is relative to the number of copies of a title owned by the library and the number of patrons ahead of you in line.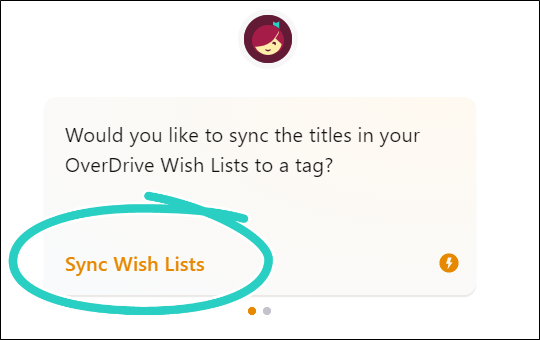 Q: I loved the OverDrive app. Can I access my history and wish list?
Yes to both! (And thanks for your support!)
There are a couple steps to importing your wish list, so see this article for a walkthrough.
Your borrowing history should automatically appear on your timeline in Libby. More info on that is also available on Libby Help.
Q: Something doesn't seem to be working correctly. How can I contact Libby Support?
The best way to contact Libby Support is directly through the app by going to Menu > Get Some Help.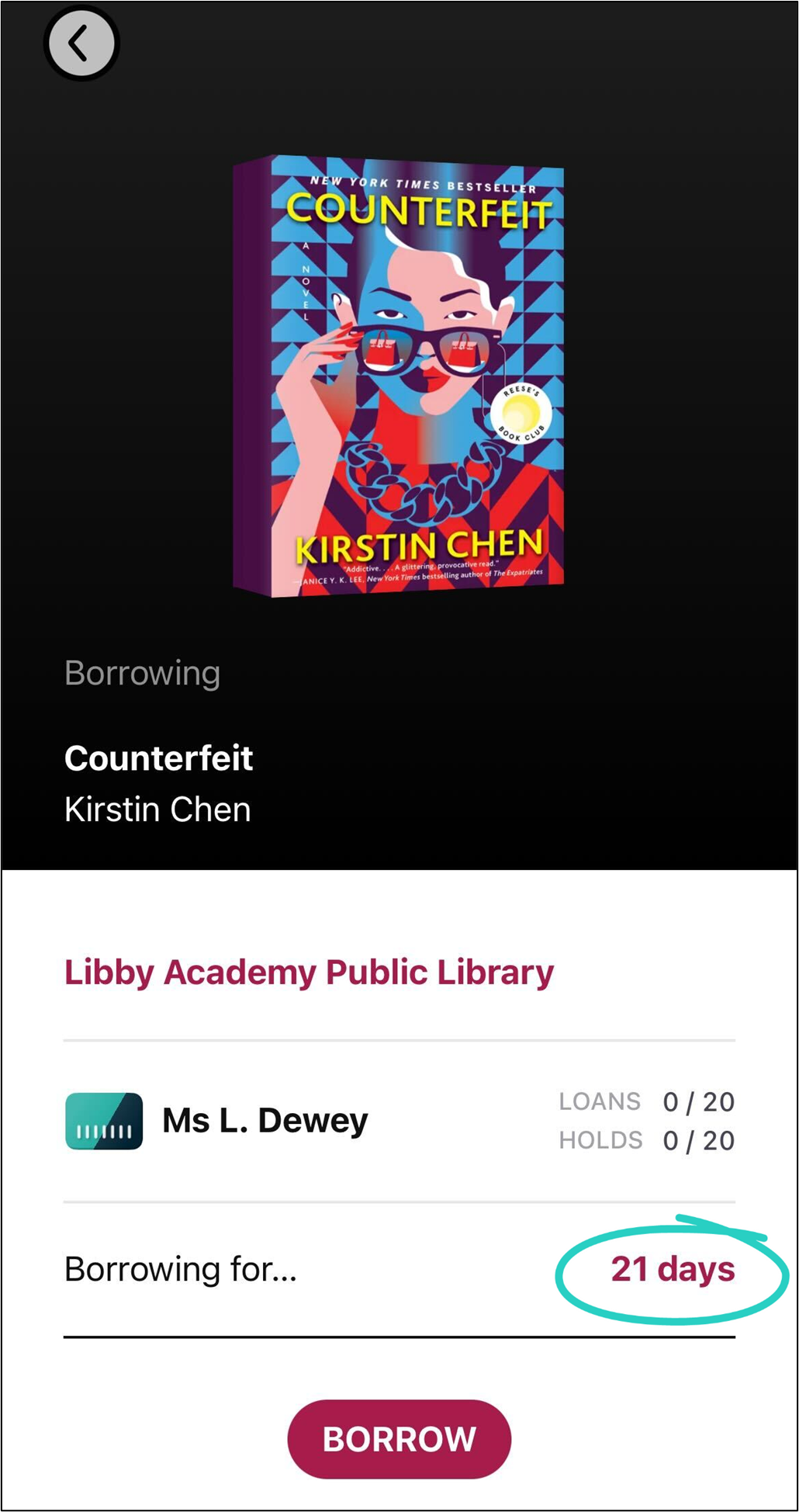 Q: How long can I check out a title? If I finish it early, can I return it?
Loan periods vary by format and library. After you tap Borrow on a title, you'll see the loan period on the confirmation screen. Tap the loan period to change the length of the loan.
To return a loan early, go to your Shelf and tap loans. Then tap Manage Loan and Return Early.
Q: What are tags and what do they do?
Tags are a flexible way to organize titles in Libby. Smart Tags are tags with extra abilities.
There's a Libby Life post with a crash course on tags and some fun pro wrestling metaphors.
The tags section of Libby Help has everything you'd ever want to know about tags.
---
Have a question that's not listed here? Reach out to our Support team for answers.
Happy reading!