If you're looking for magical realism + a side of historical fiction + a dash of romance, look no further than author Alice Hoffman. The prolific writer has over 30 works of fiction to her name, including many bestsellers, but to say that she's a New York Times bestselling author is selling her short. She's also a screenwriter, YA and children's book author and her books have been selected as picks for both Oprah's Book Club and Reese's Book Club, among many other accolades.
Her most popular series, Practical Magic, was later adapted into a film starring Sandra Bullock and Nicole Kidman that turned into a cult classic. She wrapped up the series about her famous fictional witches in 2021 with The Book of Magic, but fans are grateful that she hasn't stopped there. This masterful storyteller is back, with her latest novel about love, heartbreak, self-discovery and the enduring magic of books hitting bookshelves this summer.
---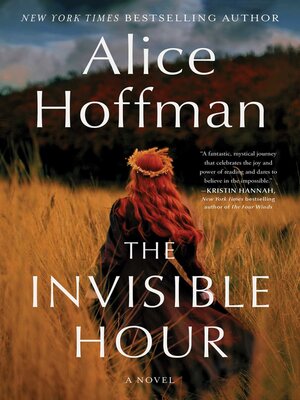 One brilliant June day when Mia Jacob can no longer see a way to survive, the power of words saves her.
The Scarlet Letter was written almost 200 years earlier, but it seems to tell the story of Mia's mother, Ivy, and their life inside the Community—an oppressive cult in western Massachusetts where contact with the outside world is forbidden, and books are considered evil. But how could this be? How could Nathaniel Hawthorne have so perfectly captured the pain and loss that Mia carries inside her?
Through a journey of heartbreak, love and time, Mia must abandon the rules she was raised with at the Community. As she does, she realizes that reading can transport you to other worlds or bring them to you, and that readers and writers affect one another in mysterious ways. She learns that time is more fluid than she can imagine, and that love is stronger than any chains that bind you.
As a girl Mia fell in love with a book. Now as a young woman she falls in love with a brilliant writer as she makes her way back in time. But what if Nathaniel Hawthorne never wrote The Scarlet Letter? And what if Mia Jacob never found it on the day she planned to die?
Nathaniel Hawthorne wrote: "A single dream is more powerful than a thousand realities."
This is the story of one woman's dream. For a little while it came true.
---
Escaping to the library
While readers love taking a break from reality with Hoffman's magical books, where does she go to escape? The library! Take a listen.
---
More spellbinding stories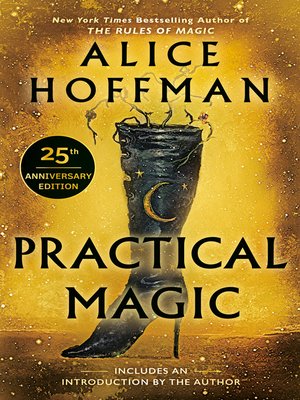 Practical Magic (1995)
For more than 200 years, the Owens women have been blamed for everything that has gone wrong in their Massachusetts town. Gillian and Sally have endured that fate as well: as children, the sisters were forever outsiders, taunted, talked about, pointed at. Their elderly aunts almost seemed to encourage the whispers of witchery, with their musty house and their exotic concoctions and their crowd of black cats. But all Gillian and Sally wanted was to escape. One will do so by marrying, the other by running away. But the bonds they share will bring them back—almost as if by magic...
---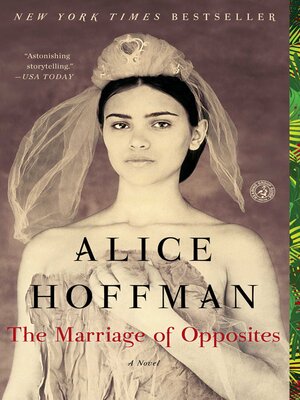 The Marriage of Opposites (2015)
Growing up on idyllic St. Thomas in the early 1800s, Rachel dreams of life in faraway Paris. Rachel's mother, a pillar of their small refugee community of Jews who escaped the Inquisition, has never forgiven her daughter for being a difficult girl who refuses to live by the rules. Growing up, Rachel's salvation is their maid Adelle's belief in her strengths, and her deep, life-long friendship with Jestine, Adelle's daughter. But Rachel's life is not her own. She is married off to a widower with three children to save her father's business. When her older husband dies suddenly and his handsome, much younger nephew, Frédérick, arrives from France to settle the estate, Rachel seizes her own life story, beginning a defiant, passionate love affair that sparks a scandal that affects all of her family, including her favorite son, who will become one of the greatest artists of France.
---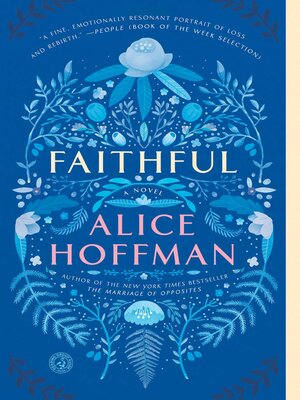 Faithful (2016)
Growing up on Long Island, Shelby Richmond is an ordinary girl until one night an extraordinary tragedy changes her fate. Her best friend's future is destroyed in an accident, while Shelby walks away with the burden of guilt.
What happens when a life is turned inside out? When love is something so distant it may as well be a star in the sky? Faithful is the story of a survivor, filled with emotion—from dark suffering to true happiness—a moving portrait of a young woman finding her way in the modern world. A fan of Chinese food, dogs, bookstores and men she should stay away from, Shelby has to fight her way back to her own future. In New York City she finds a circle of lost and found souls—including an angel who's been watching over her ever since that fateful icy night.
---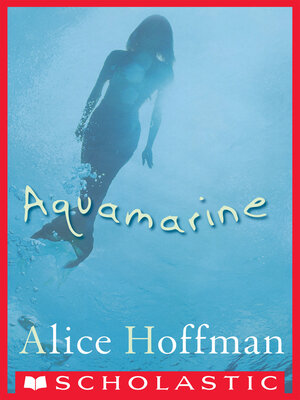 Aquamarine (2016)
Film adaptation starring Emma Roberts
Hailey and Claire are spending their last summer together when they discover something at the bottom of the murky pool at the Capri Beach Club. There in the depths is a mysterious and beautiful creature with a sharp tongue and a broken heart: a mermaid named Aquamarine who has left her six sisters to search for love on land. Now, as this mythological yet very real being starts to fade in the burning August sun, a rescue is begun. On the edge of growing up, during a summer that is the hottest on record, Hailey and Claire are discovering that life can take an unpredictable course, friendship is forever and magic can be found in the most unexpected places.
---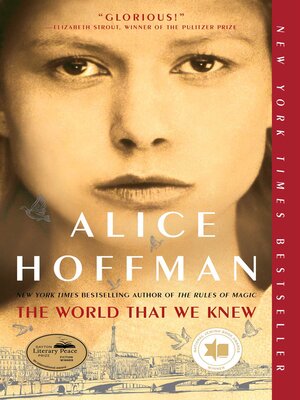 The World That We Knew (2019)
At the time when the world changed, Hanni Kohn knows she must send her 12-year-old daughter away to save her from the Nazi regime. Her desperation leads her to Ettie, the daughter of a rabbi whose years spent eavesdropping on her father enables her to create a mystical Jewish creature, a rare and unusual golem, who is sworn to protect Hanni's daughter, Lea. Once Ava is brought to life, she and Lea and Ettie become eternally entwined, their paths fated to cross, their fortunes linked.
Listen as Hoffman discusses this book, writing a fairy tale in the time of World War II, Jewish folklore and creating the world of Practical Magic with the Professional Book Nerds:
---
In her Twitter profile, Hoffman states that "Books may well be the only true magic." That may be right, but she certainly has a little magic herself.
Borrow her books from your library on the Libby app.
For more on your favorite authors, subscribe to the Libby Life newsletter.