He tells a great story. Chances are, if you've ever listened to an audiobook, you've heard him tell one. Actor, writer and prolific narrator Scott Brick has narrated over 900 audiobooks—and gotten pretty good at it, too. Proclaimed a "golden voice" by AudioFile magazine, he has over 60 Earphones Awards to his name, plus 5 Audie Awards, a Grammy nomination and more.
The rise in audiobooks
While his voice is legendary, it certainly hasn't hurt that audiobooks have quickly risen in popularity in recent years. In an era of streaming music services and podcasts, we've all grown fond of high-quality audio content, and publishers are delivering with more audiobooks being released every year, and Brick narrating a good amount of them.
Hear more about this expanding chapter in book publishing with an interview on CBS Sunday Morning featuring Brick, along with other actors like Laurence Fishburne and Jesse Eisenberg:
---
Becoming a world-class narrator
Although he makes it look easy, audiobook narration takes practice, along with a lot of natural talent. Brick leads an interactive, hands-on workshop for anyone looking to break into the business and his tips help others learn what makes a great narrator. And anyone who's ever listened to an audiobook can tell you that the voice you're listening to can either make or break a story.
So how does he do it? Brick sets a target of 3 finished hours per day, but that can often mean 6-8 hours of studio time to get there. He has to ensure word pronunciation is correct as well as do extra research and preparation when playing a character that speaks a foreign language. Most importantly, he says, you've got to love the book you're reading. People can hear in your voice when you really connect with the story.
But he's not just a narrator, he's a writer, reader and a listener too. Like other readers, Brick doesn't like to waste a lot of time, and often picks up a book to fill his downtime. Hear him explain in his own words:
---
Recent audiobook releases narrated by Scott Brick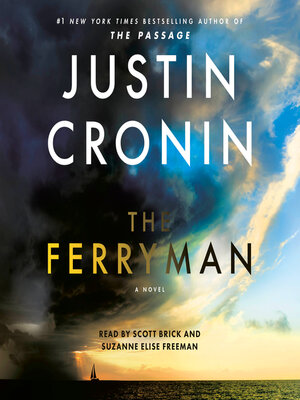 The Ferryman by Justin Cronin
Founded by the mysterious genius known as the Designer, the archipelago of Prospera lies hidden from the horrors of a deteriorating outside world. Prospera's lucky citizens enjoy long, fulfilling lives until the monitors embedded in their forearms, meant to measure their physical and psychological well-being, fall below 10 percent. Then they retire themselves, embarking on a ferry ride, where their failing bodies are renewed, their memories are wiped clean and they are readied to restart life afresh. Proctor Bennett has a satisfying career as a ferryman, gently shepherding people through the retirement process. But all is not well. He's been dreaming—which is supposed to be impossible. For another, his monitor percentage has begun to drop alarmingly fast. Meanwhile, the Support Staff have begun to question their place in the social order. Soon Proctor finds himself questioning everything he once believed, entangled with a much bigger cause than he realized—and on a desperate mission to uncover the truth.
---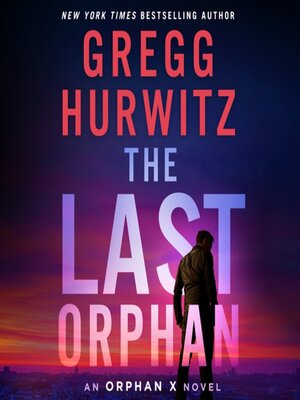 The Last Orphan by Gregg Hurwitz
As a child, Evan Smoak was plucked out of a group home, raised and trained as an off-the-books assassin for the government as part of the Orphan program. When he broke with the program, he left with a lot of secrets in his head that the government would do anything to make sure never got out. When he remade himself as The Nowhere Man, dedicated to helping the most desperate in their times of trouble, Evan found himself slowly back on the government's radar. Having eliminated most of the Orphans in the program, the government will stop at nothing to eliminate the threat they see in Evan. Now the President has him in her control and offers Evan a deal—eliminate a rich, powerful man she says is too dangerous to live and, in turn, she'll let Evan survive. But when Evan left the Program he swore to only use his skills against those who really deserve it. Now he has to decide what's more important—his principles or his life.
---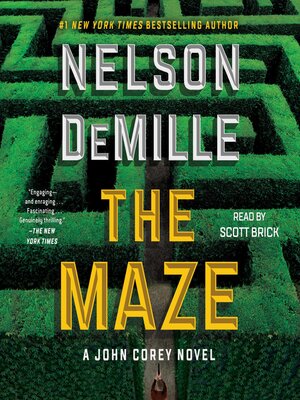 The Maze by Nelson DeMille
Inspired by and based on the actual and still-unsolved Gilgo Beach murders, The Maze takes us on a dangerous hunt for an apparent serial killer who has murdered 9 sex workers and hidden their bodies in the thick undergrowth on a lonely stretch of beach. As Corey digs deeper into this case, he comes to suspect that the failure of the local police to solve this sensational mystery may not be a result of their incompetence—it may be something else. Something more sinister.
---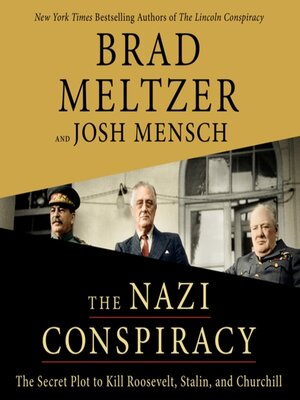 The Nazi Conspiracy by Brad Meltzer
In 1943, as the war against Nazi Germany raged abroad, President Franklin Roosevelt had a critical goal: a face-to-face sit-down with his allies Joseph Stalin and Winston Churchill. This first-ever meeting of the Big Three in Tehran, Iran, would decide some of the most crucial strategic details of the war. Yet when the Nazis found out about the meeting, their own secret plan took shape—an assassination plot that would've changed history.
A true story filled with daring rescues, body doubles and political intrigue, The Nazi Conspiracy details FDR's pivotal meeting in Tehran and the deadly Nazi plot against the heads of state of the three major Allied powers who attended it.
---
Listen to the golden voice in action and borrow one of these audiobooks on the Libby app.