As Americans, we have the right to read freely. On June 25, 1953, publishers and librarians from across the United States joined to protect this right and issued a statement that the people of our nation should be trusted to make their own decisions about what to read and believe. But that right has continually been challenged, perhaps never more frequently than today.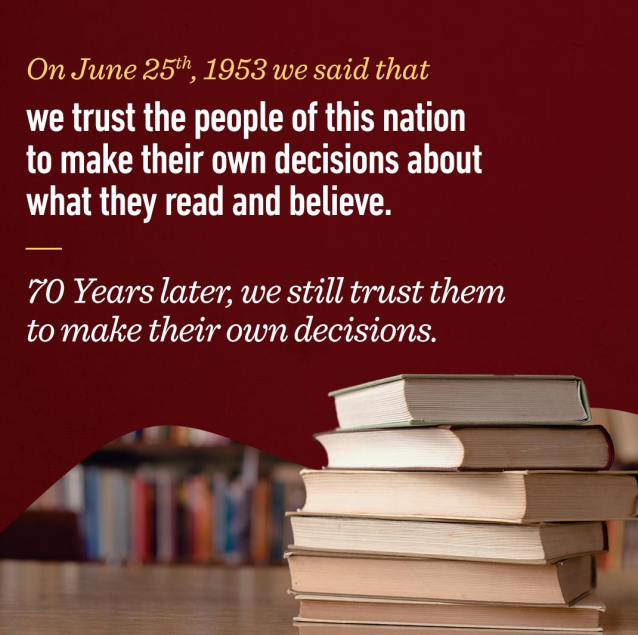 On this 70th anniversary of the issuing of the Freedom to Read Statement, the Association of American Publishers and the American Library Association's (ALA) Unite Against Book Bans is calling on all individuals to reaffirm the historic pledge. At the time it was written in 1953, McCarthyism was spreading fear and suppression to which the ALA Council responded with an affirmation of intellectual freedom.
Seven decades later, the ALA is still advocating for the right to read as new censorship battles are being fought by librarians and educators across the country. With more than 60 bills introduced in the past year about what we may or may not read, as well as the highest number of attempted book bans in 2022, the renewal of this important statement is as timely as ever.
The message also includes propositions like:
There is no place in our society for efforts to coerce the taste of others, to confine adults to the reading matter deemed suitable for adolescents, or to inhibit the efforts of writers to achieve artistic expression.
Publishers, librarians and booksellers do not need to endorse every idea or presentation they make available. It would conflict with the public interest for them to establish their own political, moral or aesthetic views as a standard for determining what should be published or circulated.
Though amended over the years, the basic idea remains: the freedom to read is essential to our democracy. The statement concludes: "Freedom itself is a dangerous way of life, but it is ours."
To read the full statement and learn more about this historic republication, visit the ALA website.