She's at it again. Making us laugh, that is. From the author who literally wrote the book on "southern lady code" comes a hilariously frank new book, Kiss Me in the Coral Lounge: Intimate Confessions from a Happy Marriage, out on June 13 and available on the Libby app. If you haven't read anything by the New York Times bestselling author Helen Ellis, it's a great time to get to know this sweet and sassy southern belle.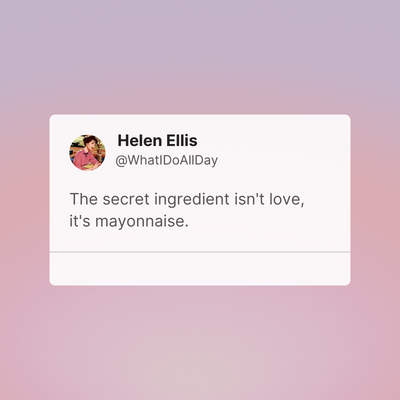 Originally from Alabama and living as a New Yorker, Ellis published her first book in 2001, but then faced years of rejection when trying to get subsequent books published—so many that she quit writing altogether and became a housewife. From her new occupation, the once anonymous Twitter account @WhatIDoAllDay was born, where she practiced her writing, and made the internet laugh with one-liners like "I have a post-errand-runner's high" and "'He likes to talk' is Southern Lady Code for boring." This all eventually led her back to writing, and she's since added more books to her repertoire.
Although she considers herself a writer these days, Ellis does still have plenty of housework to do, and loves listening to a good audiobook while doing it. Listen to her hilariously explain how audiobooks inspire her to tackle some of the more undesirable jobs (enable full screen for optimal viewing):
---
More on her new book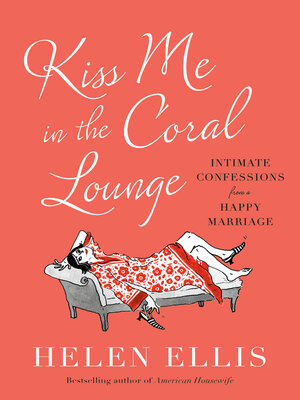 Kiss Me in the Coral Lounge: Intimate Confessions from a Happy Marriage
🎧 Audiobook
Welcome to the Coral Lounge, a room in Helen Ellis' New York City apartment painted such an exuberant shade that a Peeping Tom left a sticky note asking for the color. It is in the Coral Lounge where all the parties happen: A game called "What's in the box?" makes its uproarious debut, the Puzzle Posse pounces on a 500-piece jigsaw of a beheaded priest, and guests don blindfolds for a raucous bridal shower.
When the pandemic shuts down the city, the Coral Lounge becomes a place of refuge, where Helen and her husband binge-watch Joan Collins' Dynasty, dote on two spoiled cats and where Helen discovers that even 20 years into marriage, her husband still makes her heart pitter patter.
---
More books by Helen Ellis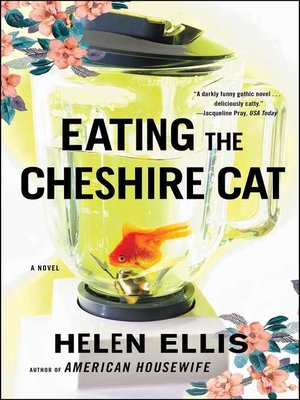 Eating the Cheshire Cat lures us into a world of perfectly planned parties and steep social ladders, where traditional rites of passage take unpredictable and horrifying turns as three girls and their overbearing mothers collide. In Tuscaloosa, Alabama, beauty is as beauty does, with axes and knives and killer smiles.
Sarina Summers and her mother will stop at nothing to have it all. Nicole Hicks harbors a fierce obsession with Sarina, which repeatedly undermines Mrs. Hicks's ambitious goals. Bitty Jack Carlson, a nice girl from the wrong side of the tracks, is caught in the crossfire but struggles to succeed outside the confines of this outrageous yet eerily familiar Southern community. It's survival of the fittest. Which girl will come out on top? Covering everything from summer camp to the University of Alabama's Homecoming game, this fast-paced and unforgettable novel will keep readers guessing until the bitter end.
---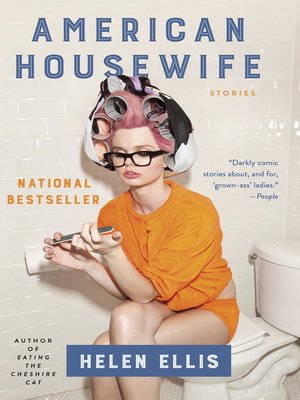 Meet the women of American Housewife. They wear lipstick, pearls and sunscreen, even when it's cloudy. They casserole. They pinwheel. And then they kill a party crasher, carefully stepping around the body to pull cookies from the oven.
Taking us from a haunted pre-war Manhattan apartment building to the unique initiation ritual of a book club, these 12 delightfully demented stories are a refreshing and wicked answer to the question: "What do housewives do all day?"
---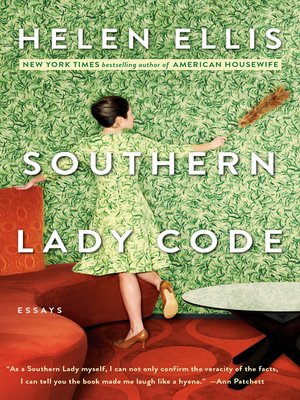 Helen Ellis has a mantra: "If you don't have something nice to say, say something not-so-nice in a nice way." Say "weathered" instead of "she looks like a cake left out in the rain" and "I'm not in charge" instead of "they're doing it wrong."
In these 23 raucous essays, Ellis inadvertently steals a Burberry trench coat, avoids a neck lift and finds a black-tie gown that gives her the confidence of a drag queen. While she may have left Alabama for New York City, Helen Ellis is clinging to her Southern accent like mayonnaise to white bread, and offering readers a hilarious, completely singular view on womanhood for both sides of the Mason-Dixon.
---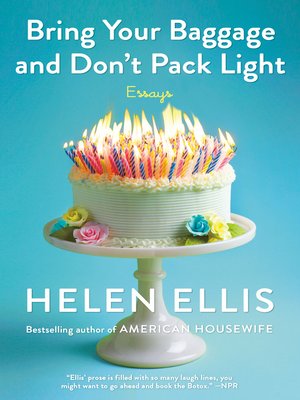 Bring Your Baggage & Don't Pack Light
🎧 Audiobook
When Helen Ellis and her lifelong friends arrive for a reunion on the Redneck Riviera, they unpack more than their suitcases: stories of husbands and kids, lost parents and lost jobs, powdered onion dip and photographs you have to hold by the edges, dirty jokes and sunscreen with SPF higher than when they hair-sprayed their bangs senior year and a bad mammogram. It's a diagnosis that scares them, but could never break their bond. Because women pushing 50 won't be pushed around.
---
If you want to hear more conversations with the author, listen to the Professional Book Nerds podcast episode where Ellis chats about long-term friendships, growing older and keeping busy.
Find these books by Helen Ellis at your library and read or listen on the Libby app.