You know the sound. I'm boooooooooored. It's the sound your kids make the first day of summer break. Be ready this year when you hear it with fun, free ways to keep them busy—and learning, too.
Many kids unfortunately experience summer slide during the break from school—and I'm not talking about the twisty one that plops you into the deep end of the pool. This slide refers to summer learning loss, a common decline in academic and reading skills over the extended break. We know kids who don't use it, lose it, and the statistics aren't pretty, stating that the average student loses 17–34% of the prior year's learning gains during summer break.
As parents and caregivers, there's plenty you can do to prevent the dreaded "brain drain" and still have fun using free resources like the Libby reading app from your library. (Your student may also have access to the Sora student reading app as well from their school—both apps are a great way to squeeze in some reading time.)
Here are a few strategies to keep their minds active that won't break the bank:
Take an audiobook on vacation
If you're headed on a road trip or planning a flight, pack an audiobook from Libby. It won't add even an ounce to your luggage, but it is heavy on entertainment. Find a family-friendly listen if you'll be traveling in the car together, or pack their headphones for some solo listening to pass the time.
🎧 Here are a few recommendations for audiobooks the whole family will love: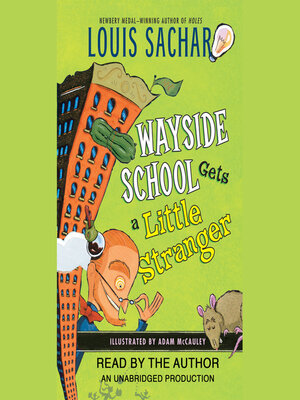 Wayside School Gets a Little Stranger by Louis Sachar
Before you enter Wayside School, you should know that it's a 30-story building with one classroom on each floor. Mrs. Jewls teaches the class on the 30th story. Miss Zarves teaches the class on the 19th story—except there is no 19th story, so there is no Miss Zarves. Understand? Good. Explain it to Calvin.
More than 15 million readers have laughed at the clever and hilarious stories of Wayside School. So what are you waiting for? Come visit Wayside School!
---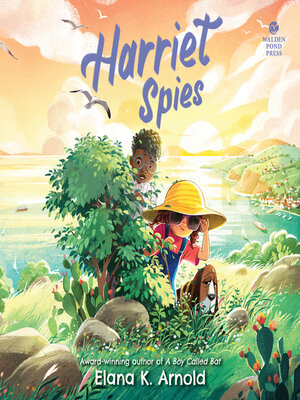 Harriet Spies by Elana K. Arnold
There are a few things you should know about Harriet Wermer: She always tells the truth. She's loving spending her summer on Marble Island, where she is an A+ mystery-solver. Okay, maybe she doesn't always tell the truth. Actually...she has a tendency to lie quite a bit. Which is why, when one of the guests at her grandmother's bed-and-breakfast finds that their treasured pair of binoculars has gone missing, no one believes Harriet when she said she had nothing to do with it. But this is one time Harriet isn't lying—and she knows that if she can find the binoculars and figure out who really took them, she can prove it. But when the culprit isn't who Harriet expects, it's up to her to decide how important the truth really is.
---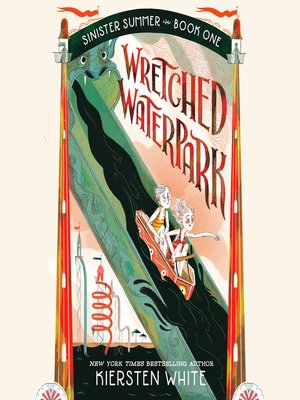 Wretched Waterpark by Kiersten White
Meet the Sinister-Winterbottoms: brave Theo, her timid twin, Alexander, and their older sister, Wil. They're stuck for the summer with their Aunt Saffronia, who doesn't know how often children need to eat and can't use a smartphone, and whose feet never quite seem to touch the floor when she glides—er—walks. When Aunt Saffronia suggests a week pass to the Fathoms of Fun Waterpark, they hastily agree. But the park is even stranger than Aunt Saffronia. The waterslides look like gray gargoyle tongues. The employees wear creepy black dresses and deliver ominous messages. An impossible figure is at the top of the slide tower, people are disappearing, and suspicious goo is seeping into the wave pool. Something mysterious is happening at Fathoms of Fun, and it's up to the twins to get to the bottom of it. But are Theo and Alexander out of their depth?
---
Visit the library & join a summer reading challenge
Your local public library is the best place to find free educational resources. In the children's section, many have crafts and activities to take home or suggested summer reading lists. Plus, the field trip to an air conditioned oasis will be a welcome distraction from boredom at home.
Encourage kids to "go shopping" and pick out their own books. Sign them up for their very own library card, if they don't already have one. Following the lending rules, taking care of the books and returning them on time is a great first lesson in responsibility.
Most libraries participate in summer reading challenges for kids. Ask about the program at your library. Sometimes, kids can win prizes for reading, and that's always great motivation! You can also participate in the Libby Reading Challenge. Great for kids of all ages, print out the challenge and stick it on the fridge as a reminder. They'll have fun checking off the boxes when they complete a prompt. Celebrate with ice cream when they complete all 8!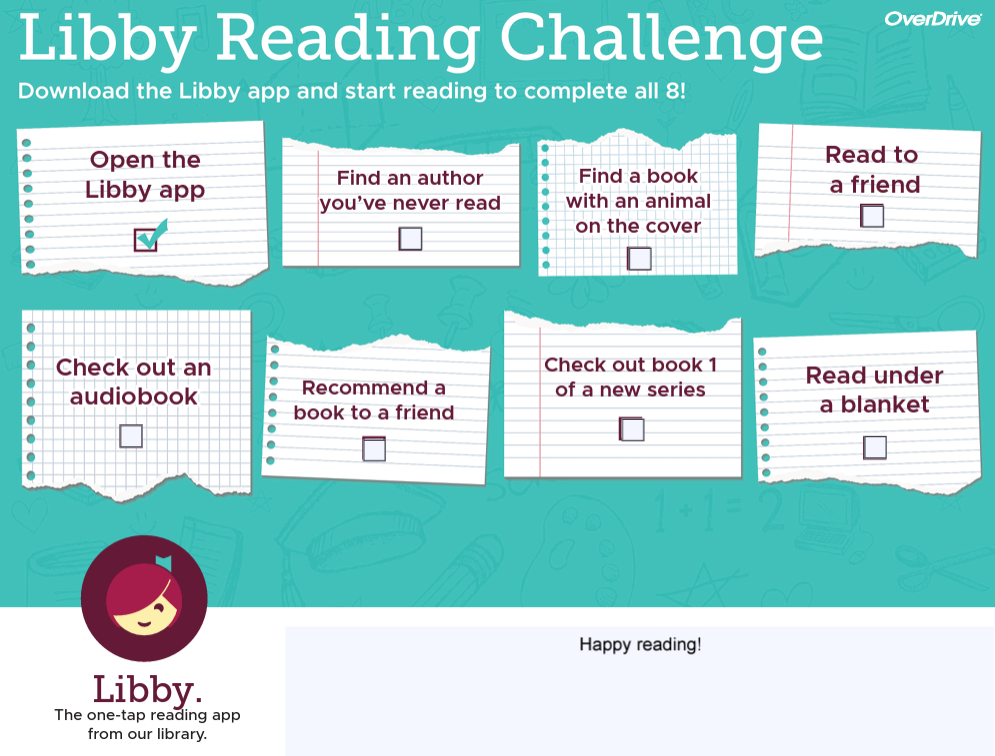 ---
Keep a routine
It's healthy to take a break from the rigidness of the school year, but a little structure can go a long way when it comes to building good reading habits. Bedtimes tend to creep later into the evenings, so why not use some of that extra daylight to create a routine of reading before bed? If that doesn't work for your schedule, find a regular time during the day when you can dedicate some down time to read—whether it's during break at the pool, in the car on the drive home from camp, while eating breakfast or before kids settle down to watch TV or have screen time.
They'll always have access to new books in Libby, so you'll never hear the excuse that they can't find anything to read. Just 15-20 minutes per day will pay off when that school bell rings at the end of summer.
---
Game-ify reading
Fact: If you want a kid to do something faster, race them. It works every time. Why? Because it's fun, and kids are all about having fun!
Make reading fun with challenges (like the Libby Reading Challenge above) or a game of Libby Summer BINGO! Kids can choose their own prompts, as long as they get 5 in a row. This not only encourages them to read, but also may help them discover a book they wouldn't have otherwise found. Print it out and have fun playing at home.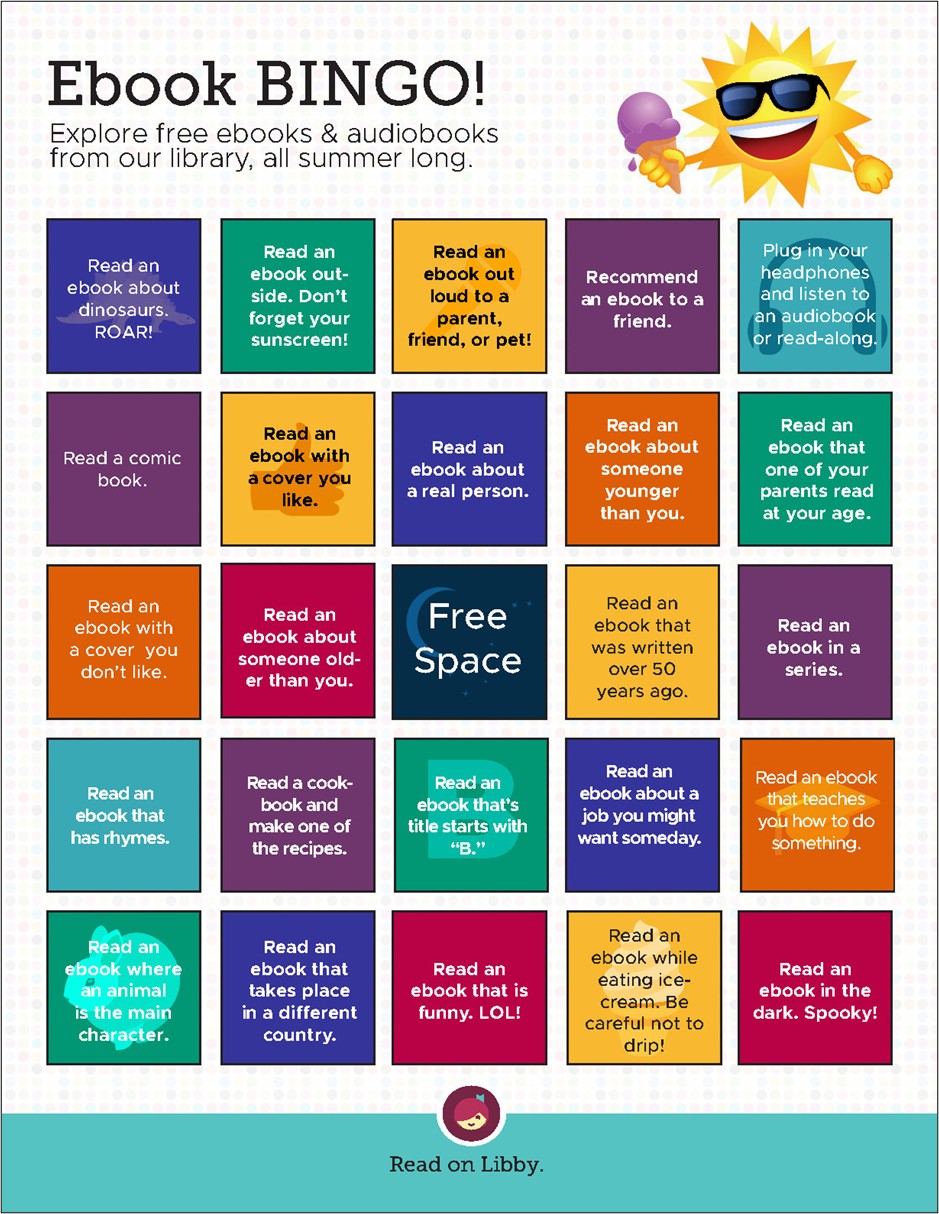 If your kids are a little too young for a game of BINGO or a reading challenge, grab some crayons and enjoy some printable coloring sheets and introduce them to some of classic literature's favorite fairy tale characters.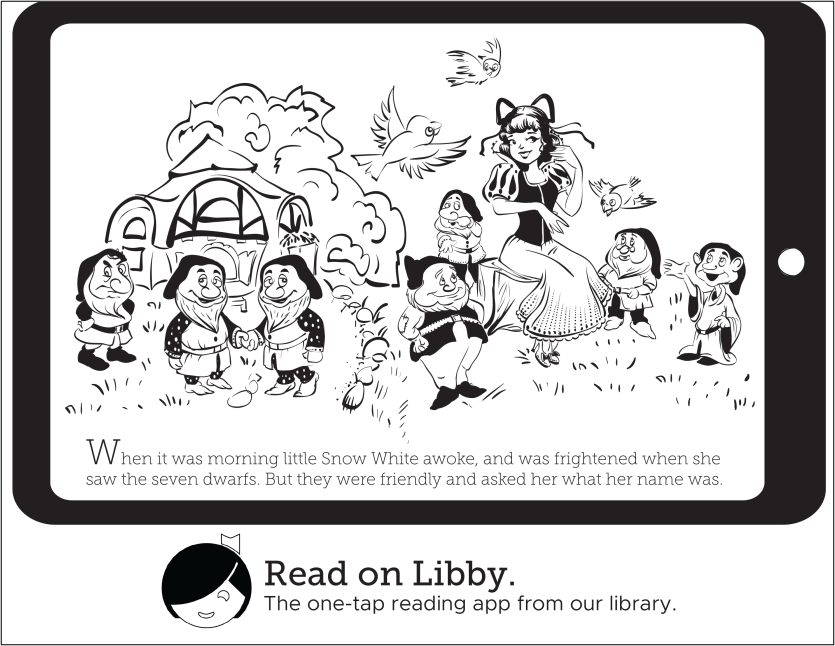 Discover an addicting series
The easiest way to get kids to read is to find something they can't put down. Here are some popular series for a range of reading abilities that will keep them turning pages all summer long: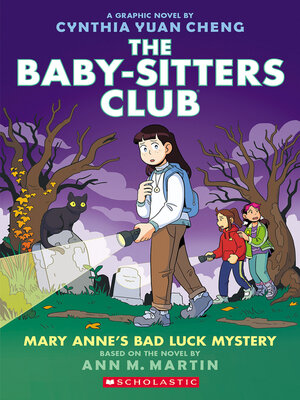 The Baby-Sitter's Club by Ann M. Martin
Mary Anne should never have thrown away that chain letter she got in the mail. Ever since she did, bad things have been happening to everyone in The Baby-sitters Club. With Halloween coming up, Mary Anne's even more worried—what kind of spooky thing will happen next? Then Mary Anne finds a new note in her mailbox: Wear this bad-luck charm, it says. OR ELSE. Mary Anne has to follow the note's instructions. But who sent the charm? And why did they send it to Mary Anne? The BSC might never see an end to their bad luck if they don't solve this mystery soon!
---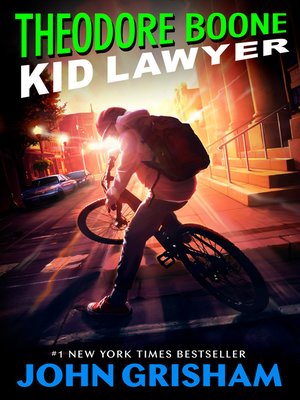 Theodore Boone series by John Grisham
In the small city of Strattenburg, there are many lawyers, and though he's only 13 years old, Theo Boone thinks he's one of them. Theo knows every judge, policeman, court clerk—and a lot about the law. He dreams of being a great trial lawyer, of a life in the courtroom.
But Theo finds himself in court much sooner than expected. Because he knows so much—maybe too much—he is suddenly dragged into the middle of a sensational murder trial. A cold-blooded killer is about to go free, and only Theo knows the truth. The stakes are high, but Theo won't stop until justice is served.
---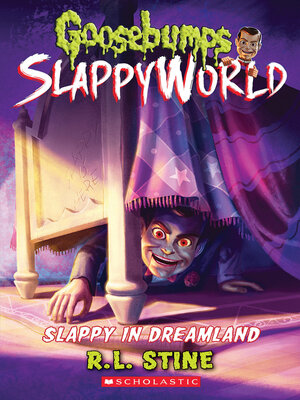 Goosebumps series by R. L. Stine
Richard Hsieh's life is about to become a total nightmare. His dad studies dreams and they hook his new Slappy doll up to the dream machine as a joke. All of a sudden, Richard's dreams are becoming scarier and scarier. Each time, seeing Slappy, his birthday present, come to life and wreak havoc. But they're only dreams, right? When his cousin Willow comes to spend a few days with him, she, too, begins to dream of Slappy. It's impossible! But when Slappy threatens to invade more kids' dreams, they'll have to figure out how to defeat him before he becomes a dream master.
---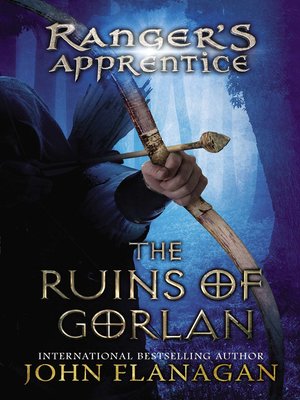 Ranger's Apprentice series by John Flanagan
They have always scared him in the past—the Rangers, with their dark cloaksand shadowy ways. The villagers believe the Rangers practice magic that makes them invisible to ordinary people. And now 15-year-old Will, always small for his age, has been chosen as a Ranger's apprentice. What he doesn't yet realize is that the Rangers are the protectors of the kingdom. Highly trained in the skills of battle and surveillance, they fight the battles before the battles reach the people. And as Will is about to learn, there is a large battle brewing. The exiled Morgarath, Lord of the Mountains of Rain and Night, is gathering his forces for an attack on the kingdom. This time, he will not be denied.
---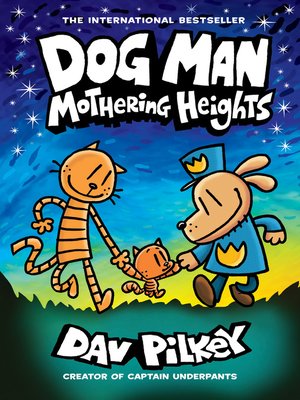 Dog Man series by Dav Pilkey
Dog Man is down on his luck, Petey confronts his not-so-purr-fect past, and Grampa is up to no good. The world is spinning out of control as new villains spill into town. Everything seems dark and full of despair. But hope is not lost. Can the incredible power of love save the day?
Dav Pilkey's wildly popular Dog Man series appeals to readers of all ages and explores universally positive themes, including love, empathy, kindness, persistence and the importance of doing good.
---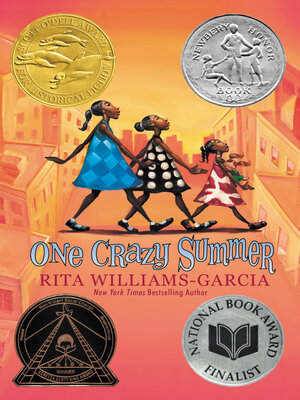 One Crazy Summer series by Rita Williams-Garcia
Eleven-year-old Delphine is like a mother to her two younger sisters, Vonetta and Fern. She's had to be, ever since their mother, Cecile, left them 7 years ago for a radical new life in California. But when the sisters arrive from Brooklyn to spend the summer with their mother, Cecile is nothing like they imagined. While the girls hope to go to Disneyland and meet Tinker Bell, their mother sends them to a day camp run by the Black Panthers. Unexpectedly, Delphine, Vonetta and Fern learn much about their family, their country and themselves during one truly crazy summer.
---
Download the free Libby app from your library and start your summer of reading.