The days are getting longer, the frost-resistant flowers are starting to pop up and I feel an overwhelming urge to clean. Yes, spring is here(ish). Some fresh new books are about to hatch, so now's the time to dust off your TBR list and get crackin'.
Read on for some librarian book recommendations to read or listen to this season. You'll find a retelling of Rapunzel, an in-depth look at some early feminist icons and a good recipe or two for breakfast on Sunday morning.
Happy spring reading!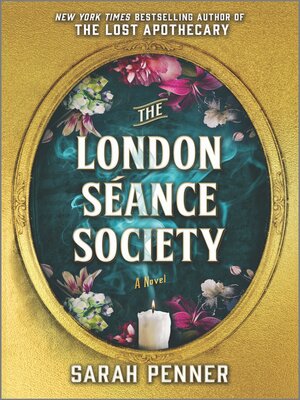 The London Séance Society by Sarah Penner
Release date: March 7
Historical fiction
With a 300,000-copy first printing, this book has so much cross-genre appeal. It has everything: Historical fiction, magical realism, gothic, a whodunit-with-vengeance theme, paranormal activity and suspense.
In this book, it's 1873 and famed British medium Vaudeline D'Allaire and her skeptical apprentice Lenna Wickes are living in Paris, attempting to solve crimes by communicating with murder victims to find their attackers. However, the exclusive men's-only London Séance Society invites Vaudeline and her understudy to return to England to help solve a high-profile murder. The women agree and return to London. As they work with this exclusive group, they start to find that they may be in the midst of a crime themselves.
This is the author's sophomore release after The Lost Apothecary, which is about to be adapted into a TV series. She previously spent 13 years in corporate finance before starting to write full-time, and we're so glad she did. - Librarian Erin K.
---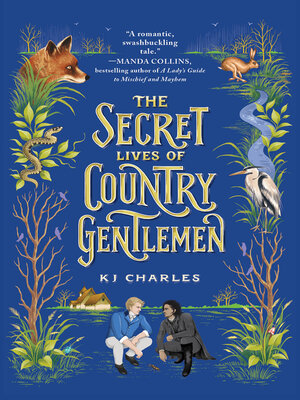 The Secret Lives of Country Gentlemen by KJ Charles
Release date: March 7
Romance
The first in a new duology introduces us to Gareth Inglis and an unnamed mystery man from Kent as they end a spontaneous week-long fling, going their separate ways on bad terms. Gareth is a tall, lanky gentleman who was abandoned by his lazy baronet father in his youth but unexpectedly inherited his estate in the Romney Marshes in Kent after his death. In his new/old estate, he meets his extended family for the first time.
Meanwhile, Josiah Doomsday, also known as Joss, is head of the Doomsday smuggling clan. The family business returns him to his home in The Marshes where Gareth witnesses their smuggling operations and learns that his past fling is a notorious criminal. Their reunion begins when Gareth agrees to testify against Joss' sister. In order to protect his sister, Joss leaps into action to dissuade Gareth from testifying, embarrassing and insulting him in the process. As Joss sets about to make amends, Gareth makes more enemies in the dangerous marshlands. Does Joss remain among them? Can Gareth trust him again? - Librarian Erin K.
---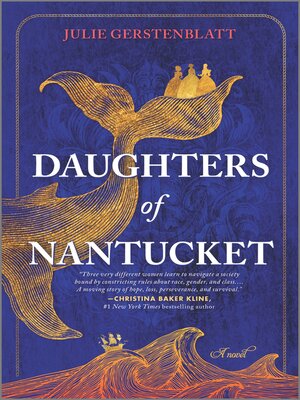 Daughters of Nantucket by Julie Gerstenblatt
Release date: March 14
Historical fiction
In 1846, Nantucket was the whaling capital of the world. The families of Nantucket accumulated their wealth, but when they overfished the area and there were no whales left around Nantucket, the men had to leave their families for long stretches at a time, sailing away to find whales elsewhere. This mainly left it to the women to keep the island running and created a unique situation where the women experienced a level of independence ahead of their time and very different from that of women on the mainland. They were maintaining businesses, running homes and becoming involved in politics.
This book follows the stories of three women: Eliza Macy, the wife of a whaling ship captain away for nearly four years, leaving her to care for her daughters and managing their dwindling finances; Mariah Mitchell, who worked at the Nantucket Atheneum and was a teacher, naturalist and astronomer; and Meg White, a Black abolitionist born a free woman who is pregnant and trying to relocate her store to Main Street as the island begins to integrate. When a fire breaks out on Nantucket, these three very different women have to take stock of their priorities and decide what must be saved, what must be sacrificed and how they move forward.
This book had me hooked from the first page. Not only is the writing gorgeous, but the author comes out of the gate with a sense of suspense and anticipation for the events to come. Each chapter counts the days as you get closer and closer to the fire and the dramatic combination of the events in these women's lives. This will have a broad appeal beyond just die-hard historical fiction fans. - Librarian Claire W.
---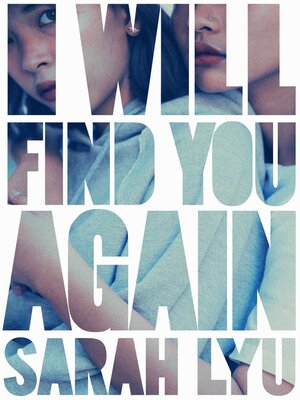 I Will Find You Again by Sarah Lyu
Release date: March 14
Romance
This is a twisty YA romance/thriller about a girl who can't stop pushing herself to perfection, even after losing her best friend and love of her life.
Meadowlark, Long Island, is full of big houses, excellent schools, unwavering ambition and loneliness. Chase and Lia seem like opposites. Chase is the classic overachiever voted most likely to succeed, and Lia is an impulsive and flighty free spirit. Despite their differences, they've been best friends for years, which has evolved into first love. But when Lia disappears, Chase's life has been turned upside down. As she deals with anger, grief, frustration and addiction, the balance shifts and maintaining perfection is no longer sustainable.
Blending the before and after, the novel flashes back to Chase and Lia's early relationship and their love for one another, then forward to the eventual unravel as Chase tries to piece everything together.
This a complex psychological drama, and while it's definitely not the most straightforward case of romance, it keeps Chase and Lia's relationship and love at its core. The novel covers a lot of big topics, including love and loss, trauma and the weight of expectation and perfectionism. - Librarian Claire W.
---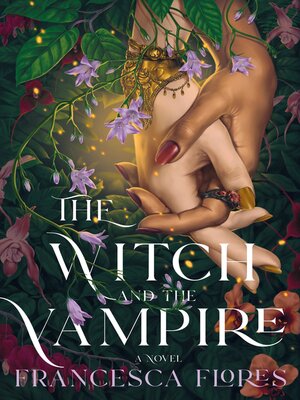 The Witch and the Vampire by Francesca Flores
Release date: March 21
Romance
This book has been described as a queer retelling of Rapunzel, and if that weren't enough to tempt you, it's also an enemies-to-lovers story featuring a vampire and a witch who fall in love.
Though once friends, vampire Ava and witch Kaye now have more reasons to despise each other than love one another. For two years, Ava has been trapped in her attic after being turned into a vampire. One day, she flees to the woods and away from her controlling mother. Along the way, she encounters Kaye and they decide to travel together in search of a vampire queen. Meanwhile, Kaye has already decided to kill her old friend, as she blames her for her mother's death. But maybe killing Ava won't be as easy as she thinks. As they travel together, they encounter danger of all kinds, from other witches, vampires and monsters to the dangerous possibility of falling in love with the enemy.
Kaye and Ava's sweet romance and the action-packed storyline will have you hurriedly turning pages. - Librarian Marisa A.
---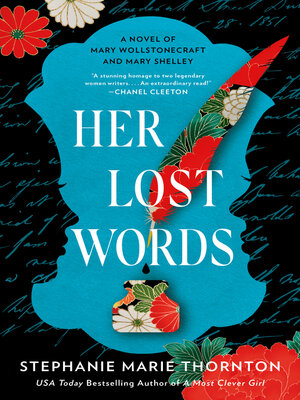 Her Lost Words: A Novel of Mary Wollstonecraft and Mary Shelley by Stephanie Marie Thornton
Release date: March 28
Historical fiction
This book tells the story of two literary legends who were intrinsically connected, but were a life apart from one another: Radical feminist Mary Wollstonecraft, author of Vindication of the Rights of Woman, and her daughter Mary Shelley, author of Frankenstein and considered by many to be the mother of science fiction.
The book switches between decades and perspectives, first introducing Mary Wollstonecraft in her teen years, seeking to escape her father's violence and find a way forward through reading and discovering new ideas. Later, we're introduced to a teenaged Mary Godwin, who feels connected to her mother through the books she wrote but is still trying to discover who she really was.
There are certainly books about these two as the influential literary figures that they later become, but this book in particular shows us who they were as young women in a world that wasn't necessarily made for them and worked against women's ideas and independence. It shows how they each worked to carve out a place for themselves, both in their everyday lives and in history. It's grounded in their humanity, which makes this a very compelling read. - Librarian Claire W.
---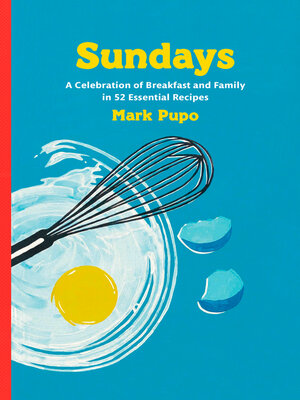 Sundays: A Celebration of Breakfast and Family in 52 Essential Recipes: A Cookbook by Mark Pupo
Release date: March 28
Nonfiction
This is part cookbook, part family memoir about the author's neurodivergent son, Sam. It documents their first year cooking Sunday breakfasts together. It's so sweet to read how cooking became their weekend connection ritual. This book includes illustrations and 52 recipes for a full year of weekend breakfasts. Some of the dishes included are eggnog french toast bake and cheddar polenta cakes. There are also passages about his favorite childhood breakfast foods and the origins of various breakfast staples.
Mark Pupo is a prolific food and culture journalist from Toronto, Canada. At last count, he's had breakfast 17,000 times...a number I could only hope to reach as well. - Librarian Erin K.
---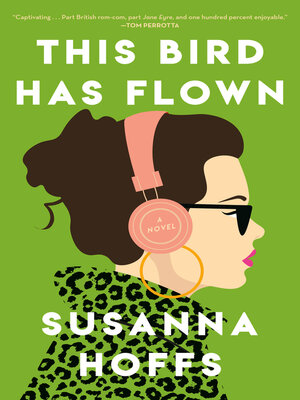 This Bird Has Flown by Susanna Hoffs
Release date: April 4
Romance
This book is rock-n-roll meets romance in the best possible way. Author Susanna Hoff, the former Bangles band member has written a book about a one-hit wonder who, at age 33, has hit rock bottom and gets a chance at stardom once again.
The protagonist, Jane, thinks that her best days are behind her. She's got terrible stage fright and lives with her parents. When she's invited to London by her manager, she meets a handsome professor on the plane and then gets invited to perform with a huge star at Royal Albert Hall—might this be exactly what she needed? Can she get over her writer's block, fall in love and revive her career?
It should come to no one's surprise that as well as being a famous musician, Susanna Hoffs can WRITE. She's funny and snarky, and I loved her characters as if they were my own friends. - Librarian Marisa A.
---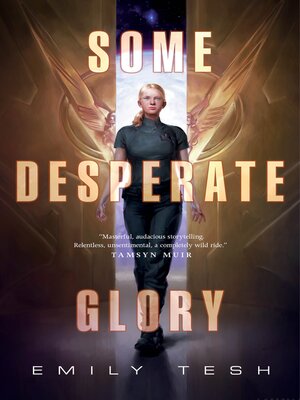 Some Desperate Glory by Emily Tesh
Release date: April 11
Fantasy & Sci-Fi
This debut novel is already getting rave reviews from well-known sci-fi and fantasy authors. It's a fast-paced queer opera thriller that will hook you right from the get-go.
Kry lives on Gaea Station with the last of humanity, and they all know it's their destiny to ensure the survival of the human race and seek revenge against the majoda, the alien race that destroyed Earth. Kyr was raised as a warrior and has excelled in her training, but when she comes of age, Kyr was assigned to the Nursery, where she is expected to bear sons to become future soldiers until it kills her. On top of that, her brother Magnus is assigned to a post that means certain death, so Kyr decides to go against orders and take matters into her own hands and be the hero she was trained to be. But once she strikes out away from Gaea Station, she starts to learn that all the truths and principles she's been taught her whole life might not actually be what they seem, and the universe is far more complicated than what she could have imagined.
This book addresses big topics like hate, indoctrination, radicalization and breaking free, and it does it with intensity, detailed world-building and bold storytelling. My favorite quote about this book comes from Olivia Blake, author of The Atlas Six. She says, "Some Desperate Ghost is honest, unflinchingly so. This book will hurt you, and you will say 'Thank you.'" Witty and incredibly inventive, this adventure will keep you up way past your bedtime. - Librarian Claire W.
---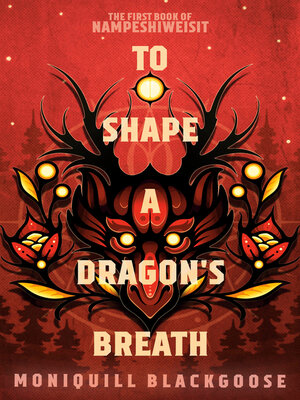 To Shape a Dragon's Breath by Moniquill Blackgoose
Release date: May 9
Fantasy & sci-fi
This YA debut has so many different elements swirled up into one incredible, engaging and unique world. This book is queer, and also includes disability, autism and indigenous representation in a world that's a semi-alternate universe to ours. There's people and languages that we might recognize, but it's also completely new, with intelligent takes on the fantasy genre. And did I mention that there are dragons?
Only, the dragons haven't been seen on the remote island of Masquapaug for generations. That is, until our 15-year-old protagonist Anequs finds a dragon egg and joins a dragon academy so that she may save its life. There, she will face colonizers, a male-dominant population and ignorance forcing her to prove herself and fight for her way of life.
This book doesn't just follow dragon riders as they build deep connections with their dragons—it's a hard and brutal look at how industrial colonialism overcomes indigenous lands and nature and the people who get mowed down in its path. - Librarian Marisa A.
---
But wait! Here's more to keep an eye on...
Still want more?
Browse over 100 new releases being published this spring, and borrow them from your library on the Libby reading app.