What do Ben & Jerry's Ice Cream, Patagonia, Warby Parker and the Libby app have in common? All are Certified B Corp brands which, in short, means they use business as a force for good.

If you've ever noticed the circled "B" on anything from your snack packaging to a label on your new pair of pants, you may have wondered about the story behind it. That "B" lets you know the product is from a B Corp, a business committed to social and environmental good. Those that have received this challenging certification must continually prove that they're balancing profit with purpose.
March is B Corp month, and to celebrate, we're diving into more about how OverDrive, the creators of Libby, and many other brands are doing their bit for a brighter future.
How brands become B-certified
Currently, there are 6,000 Certified B Corporations (and counting!) in more than 80 countries and over 150 industries such as manufacturing, consulting, solar energy and law. All have one goal: To use business to benefit people, communities and the planet. But it's no small feat to get there. In order to receive the B Corp Certification, companies must complete a rigorous assessment of their practices and outputs across five categories: Governance, workers, community, the environment and customers.
Organizations are certified by B Lab, a third-party nonprofit network, and the certification can take years to finalize. It's a challenge to achieve—as it should be. In 2017, OverDrive proudly announced its certification and inclusion in this global movement for good.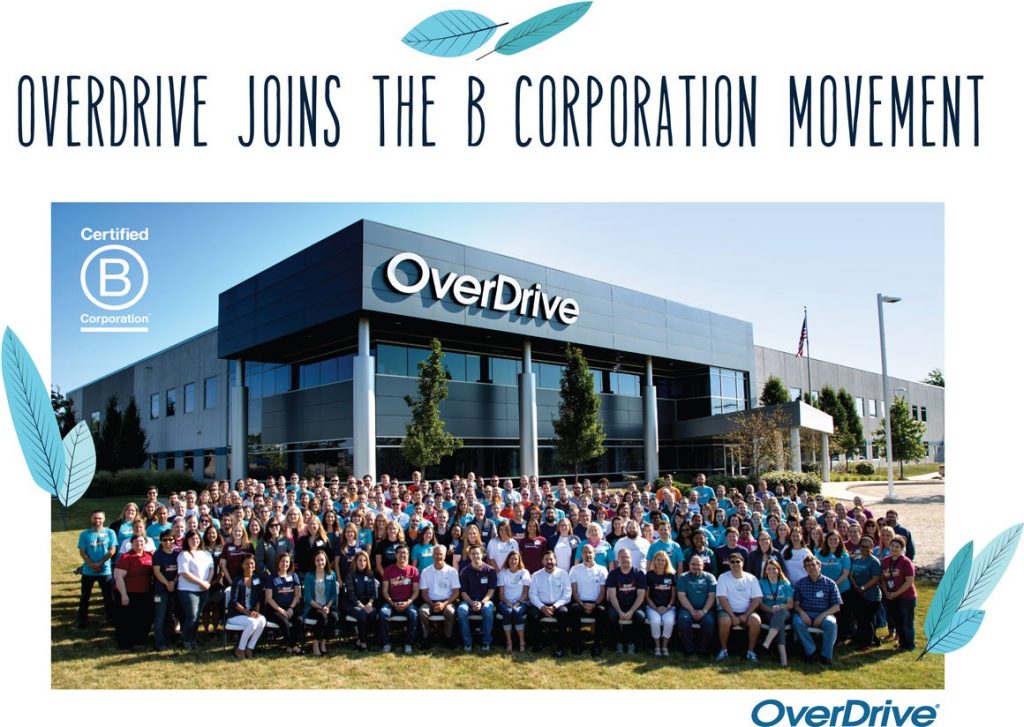 Libby supports libraries
Working toward the greater good is just good business, and it's just something libraries do every day. OverDrive's mission from Day 1 has been rooted in supporting these efforts.
The B Corp Certification reinforces that pledge to effect positive change by working together with public libraries to empower communities and support literacy. By borrowing from your local library through the Libby app, you can feel good knowing you're supporting this vital community resource and casting a conscious vote for better business.
Your dollar, your choice
As more of us strive to be more ethical consumers, we seek out companies that work to do things in a better way. Our dollar is our vote, and many of us choose to cast it for brands with transparent and sustainable practices, and those that choose to be kind to their employees and the planet.
For an easy way to identify these brands that are good to people and the planet, use this tool to find Certified B Corp companies near you.
In addition to the companies mentioned above, here are 10 more B Corp companies that you can feel good about supporting:
Learn more about the movement
Check out the B Corp website to learn more, or get involved in the conversation on social with #WeGoBeyond, #BCorpMonth and #BCM2023.