What happens when a former video game Flash artist starts writing? You get blockbuster bestselling young adult science fiction — otherwise known as The Skyhunter Duology, The Warcross Series, The Legends Series and The Young Elites Trilogy.
Author Marie Lu has been writing dystopian fiction since 2011, and has amassed rave reviews, a devoted fan following and potential future movie adaptations.

The LA Times describes Lu as "masterful at creating atmospheric, urban futurescapes in which an elite, skyscraper-dwelling minority holds down impoverished masses with military might." This kind of imagined sociopolitical and environmental ruin might feel a little too on-the-nose at times in our turbulent world. Years after completing The Legends Trilogy, Lu wrote Rebel, the fourth in the series, to show teens a world after dystopia. She wrote the grand finale to give her readers a sense of control in a world that felt like it was veering too closely to her futuristic novels.
Dystopian fiction is brimming with books for young adult readers (think: The Hunger Games, Divergent, The Matched Trilogy and many others), and for good reason. The riveting, page-turning nature of these series creates a reality that lets us get lost, even if the fictional places sometimes feel a little too close to home. Teens (and adults, too) relate to the coming-of-age storylines, and enjoy escaping with a novel that gives the feeling of being plucked off of their couch and into another dimension.
Hear Lu talk about her own experience transporting into a different world with a book:
Her next book
Lu's newest book, Stars and Smoke, a smoldering enemies-to-lovers novel, will be coming out on March 28.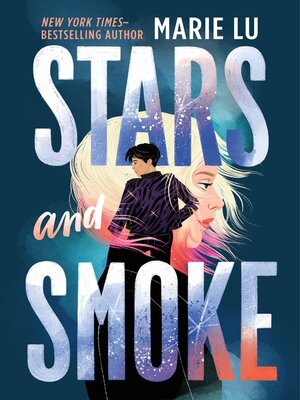 Meet Winter Young—International pop sensation. His star power has smashed records and his rabid fans would move heaven and earth for even a glimpse of him. Meet Sydney Cossette—Part of an elite covert ops group, Sydney joined their ranks as their youngest spy with plans to become the best agent they've ever had. She's fiery, no-nonsense, and has zero time for romance—especially with a shameless flirt more used to serving sass than taking orders. When a major crime boss gifts his daughter a private concert with Winter for her birthday, Sydney and Winter's lives suddenly collide. Sydney is assigned as Winter's bodyguard with Winter tapped to join her on the mission of a lifetime as a new spy recruit. Sydney may be the only person alive impervious to Winter's charms, but as their mission brings them closer, she's forced to admit that there's more to Winter Young than just a handsome face...
Read Across America Week is March 2-6, the perfect time to encourage young readers to start a lifelong habit and pick up a book they won't be able to put down.
Explore these books by Marie Lu and others in Libby, the library reading app.