I recently heard someone say, "We're friends because we read the same books." It's true: One of the many superpowers of books is how they're able to quickly connect us with others. What's better than talking to someone about the book you just finished, whether it's a friend or your entire book club? The community, friendship and the shared love of reading is something to be celebrated, which is exactly what these 10 books do.
Whether the members of these books clubs are fighting racism, slaying vampires or reading forbidden works, they all harness the power of books to transport us, change our minds, comfort us or help us find our way. Borrow them in the Libby reading app from your library. They might just be the perfect pick for your next book club meeting.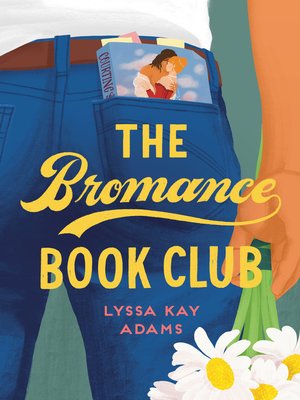 The Bromance Book Club by Lyssa Kay Adams
Nashville Legends second baseman Gavin Scott's marriage is in major league trouble. His wife Thea asks for a divorce, and Gavin realizes he's let his pride and fear get the better of him.
Welcome to the Bromance Book Club.
Distraught and desperate, Gavin finds help from an unlikely source: A secret romance book club made up of Nashville's top alpha men. With the help of their current read, a steamy Regency titled Courting the Countess, the guys coach Gavin on saving his marriage. But it'll take a lot more than flowery words and grand gestures for this hapless Romeo to find his inner hero and win back the trust of his wife.
---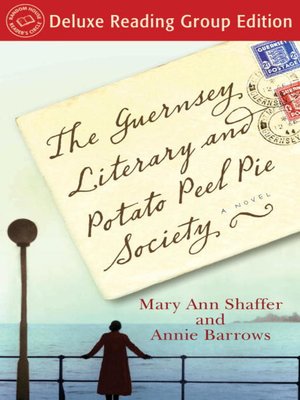 The Guernsey Literary and Potato Peel Pie Society by Mary Ann Shaffer
January 1946: As London emerges from the Second World War, writer Juliet Ashton is looking for her next book subject. Who could imagine that she would find it in a letter from a man she's never met, a native of Guernsey, the British island once occupied by the Nazis? As Juliet begins a remarkable correspondence, she is drawn into the world of this man and his friends, all members of the Guernsey Literary and Potato Peel Pie Society, a book club formed to protect its members from arrest by the Germans. Through their letters, she learns about their island, their taste in books and the powerful, transformative impact the Occupation has had on their lives. Captivated by their stories, she sets sail for Guernsey. What she finds there will change her forever.
---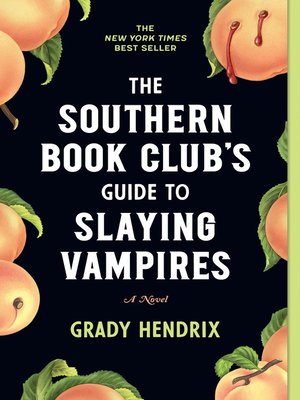 The Southern Book Club's Guide to Slaying Vampires by Grady Hendrix
Patricia Campbell's life has never felt smaller. The only thing keeping her sane is her book club, a close-knit group of Charleston women united by their love of true crime. One evening after book club, Patricia is viciously attacked by an elderly neighbor, bringing the neighbor's handsome nephew, James, into her life. James makes Patricia feel things she hasn't felt in years. But when children on the other side of town go missing, their deaths written off by local police, Patricia has reason to believe James is more of a Bundy than a Brad Pitt. Little by little, James will insinuate himself into Patricia's life and try to take everything she took for granted—including the book club—but she won't surrender without a fight in this blood-soaked tale of neighborly kindness gone wrong.
---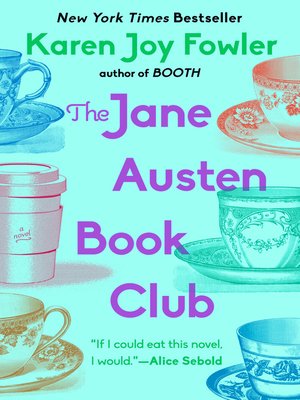 The Jane Austen Book Club by Karen Joy Fowler
In California's central valley, five women and one man join to discuss Jane Austen's novels. Over the 6 months they get together, marriages are tested, affairs begin, unsuitable arrangements become suitable, and love happens. With her eye for the frailties of human behavior and her ear for the absurdities of social intercourse, Karen Joy Fowler has never been wittier nor her characters more appealing. The result is a delicious dissection of modern relationships.
Dedicated Austenites will delight in unearthing the echoes of Austen that run through the novel, but most readers will simply enjoy the vision and voice that, despite two centuries of separation, unite two great writers of brilliant social comedy.
---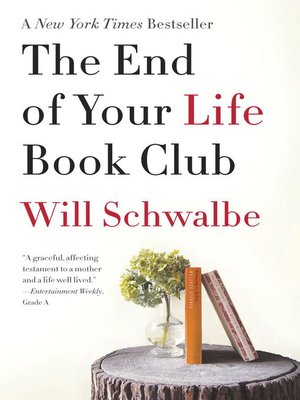 The End of Your Life Book Club by Will Schwalbe
"What are you reading?" That's the question Will Schwalbe asks his mother, Mary Anne, as they sit in the waiting room of the Memorial Sloan-Kettering Cancer Center. Mary Anne was diagnosed with a form of advanced pancreatic cancer, which is almost always fatal, often in six months or less. This is the inspiring true story of a son and his mother, who start a "book club" that brings them together as her life comes to a close. Over the next two years, Will and Mary Anne carry on conversations that are both wide-ranging and deeply personal, prompted by an eclectic array of books and a shared passion for reading. The issues they discuss include questions of faith and courage as well as everyday topics such as expressing gratitude and learning to listen. Throughout, they are constantly reminded of the power of books to comfort us, astonish us, teach us and tell us what we need to do with our lives and in the world.
---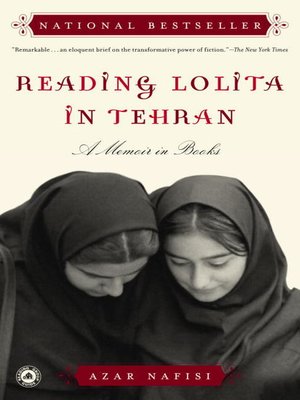 Reading Lolita in Tehran by Azar Nafisi
For two years before she left Iran in 1997, Nafisi gathered 7 young women at her house every Thursday morning to read and discuss forbidden works of Western literature. They were all former students whom she had taught at university. They were shy and uncomfortable at first, unaccustomed to being asked to speak their minds, but soon they began to open up and to speak more freely, not only about the novels they were reading but also about themselves, their dreams and disappointments. Their stories intertwined with those they were reading—Pride and Prejudice, Washington Square, Daisy Miller and Lolita—their Lolita, as they imagined her in Tehran. Nafisi's luminous tale offers a fascinating portrait of the Iran-Iraq war viewed from Tehran and gives us a rare glimpse, from the inside, of women's lives in revolutionary Iran.
---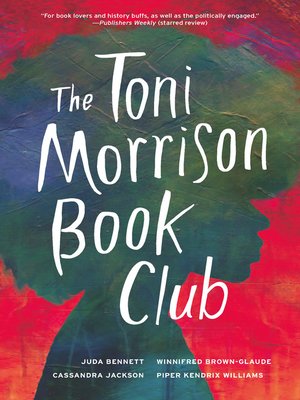 The Toni Morrison Book Club by Juda Bennett
In this startling group memoir, four friends—black and white, gay and straight, immigrant and American-born—use Toni Morrison's novels as a springboard for intimate and revealing conversations about the problems of everyday racism and living whole in times of uncertainty. Tackling everything from first love and "Soul Train" to police brutality and the Black Lives Matter movement, the authors take up what it means to read challenging literature collaboratively and to learn in public as an act of individual reckoning and social resistance.
---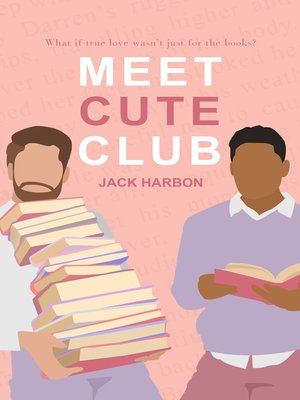 Meet Cute Club by Jack Harbon
Jordan Collins doesn't need a man. What he needs is for his favorite author to release another one of her sexy supernatural novels and more people to sign up for the romance book club that he fears is slowly and steadily losing its steam. He also needs for the new employee at his local bookstore to stop making fun of him for reading things meant for "grandmas." The very last thing he needs is for that same employee, Rex Bailey, to waltz into his living room and ask to join Meet Cute Club. Jordan decides that if he wants this club to continue thriving, he can't turn away any new members. As Jordan and Rex team up to bring the club back from the ashes, Jordan soon discovers that Rex might not be the arrogant troll he made himself out to be, and that, like with all things in life, maybe he was wrong to judge a book by its cover.
---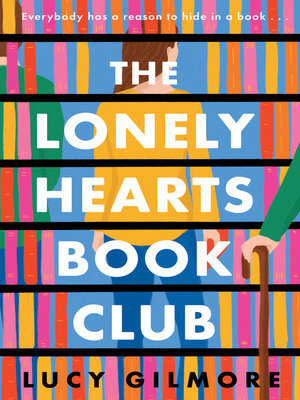 The Lonely Hearts Book Club by Lucy Gilmore
Release date: March 2023
Sloane Parker lives a small, contained life as a librarian in her small, contained town. She never thinks of herself as lonely, but still she looks forward to that time every day when old curmudgeon Arthur McLachlan comes to browse the shelves and cheerfully insult her. Their sparring is such a highlight of Sloane's day that when Arthur doesn't show up one morning, she's instantly concerned. Anxious, Sloane tracks the old man down only to discover him all but bedridden and desperately struggling to hide how happy he is to see her. Wanting to bring more cheer into Arthur's gloomy life, Sloane creates an impromptu book club. Slowly, the lonely misfits of their sleepy town begin to find each other, and in their book club, find the joy of unlikely friendship.
---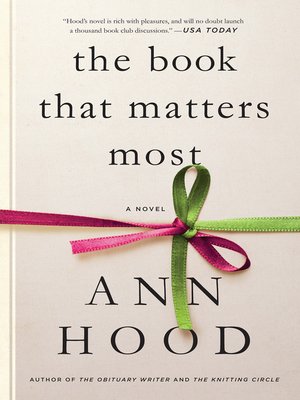 The Book that Matters Most by Ann Hood
Ava's 25-year marriage has fallen apart, and her two grown children are pursuing their own lives outside of the country. Ava joins a book group, not only for her love of reading but also out of sheer desperation for companionship. The group's goal throughout the year is for each member to present the book that matters most to them. Ava rediscovers a mysterious book from her childhood—one that helped her through the traumas of the untimely deaths of her sister and mother. Alternating with Ava's story is that of her troubled daughter Maggie, who, living in Paris, descends into a destructive relationship with an older man. Ava's mission to find that book and its enigmatic author takes her on a quest that unravels the secrets of her past and offers her and Maggie the chance to remake their lives.