The first time I heard about queen of cleaning Marie Kondo and her bestselling book The Life-Changing Magic of Tidying Up, I thought I'd met my soul sister. Certainly, she's much more knowledgeable about tidying having written a book about it that sold over 9 million copies, so maybe she's more like a wise aunt than a sister. It's a true art to witness as she works her magic on Netflix's Tidying Up series, gracefully persuading participants to throw away mountains of their unused possessions without even ruffling her cardigan.
Though I'm no Kondo, I do have a propensity to toss or donate anything lying around my house that doesn't find a home fast enough. My family has grown accustomed, and they will either announce loudly to no one in particular (me), "DON'T THROW THIS AWAY," or squirrel their treasures out of sight so that I don't do my worst with it.
Even with the anti-minimalist trend of cluttercore trending on TikTok, I think many of us still want to be free from the hoards of things we don't love lying around our homes, our closets, our brains, our phones. If you do happen to have 100 collectables that bring you joy, then I'm all for creating that shrine in your living room and letting their light shine, but for the rest of us, let's make some space. Although I'll leave the advice to the experts below, there are some questions that help me during the clean-up process: Do I even like this? Will I really need this later? Does it make me happy? Is this thing adding value to my life? If the answer to any of those questions is "No," then out it goes.
Here are some reading recommendations filled with tips from the pros on how you can start the process of decluttering everything from your closet to your mind. If this is something on your list this year, there's no better time to start removing the clutter, and as someone who finds much joy in clearing life's cobwebs, I promise, you'll feel renewed.
Declutter your home

I already mentioned The Life-Changing Magic of Tidying Up by Marie Kondo, which is a great place to start. But there are other approaches too, like guides specifically for parents, how to set up new systems in your home and more in general on the minimalist movement. Many of these books encourage you to find a gentle method that works for your life to avoid any guilt and exhaustion that can come with decluttering. There's no sense getting stressed out on your way to a more stress-free life.
Declutter your closet

Do you own a piece from every trend from the last 5 years, yet still have nothing to wear? These books will help you downsize your closet by shopping smarter, honing in on your personal style, choosing a more sustainable wardrobe and even challenging you to wear only 33 pieces of clothing for 3 months. They promise that you'll never look back again.
Declutter your mind

Even though we can't physically see it, the mind can be a messy place. Learn how to stop people pleasing, overthinking and getting bogged down by negative thoughts to help free up space for more focus, productivity and happiness. Think of it as smudging your brain with sage and making way for some better vibes.
Declutter your digital life

Another unseen cause of clutter can be the noise and distraction of our digital lives. How much time is our technologically focused life taking away from our real life? If you feel like your head is always buried in the gleam of your smartphone, these books can help you look up and see what you might be missing.
Declutter your bookshelves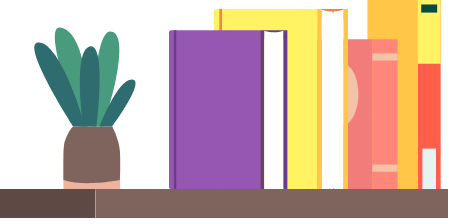 Yeah, right. If you're reading this, I'm guessing you're a book lover and I'd never ask you to part with books!
But one very minimalistic way to enjoy all the books you want without any clutter is through your local library. Ebooks and audiobooks on the Libby app let you keep a sky-high reading stack on your virtual bookshelves without collecting even a speck of dust.