Colleen Hoover is everywhere. Her record-breaking book sales and sky-rocketing popularity on #BookTok have her holding multiple top spots on the New York Times bestseller list. Her latest book, It Starts with Us, hit bookshelves on October 18. Colleen took some time to chat with the Professional Book Nerds and answer some of our burning questions.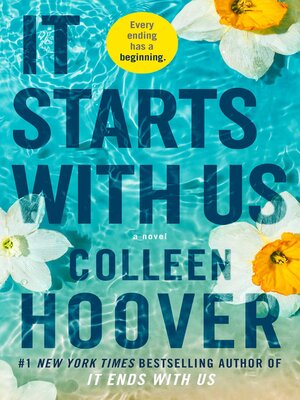 What does it feel like to have arguably THE most anticipated book release of 2022 with It Starts with Us?
Terrifying? Exciting? Honestly, I just hope readers enjoy this book. It's not as heavy as the first one, but I wanted to give Lily a lighter experience. I also wanted Atlas to get his happy ever after in more ways than one, so I hope readers have as much fun reading this one as I had writing it.
Did you always plan to revisit Lily and Atlas? What drew you back to these characters?
No, I thought I'd put them to bed, but the readers drew me back to their story. I started out with the goal of writing a quick follow-up for readers, but once I dove back into this world, an idea came to me that felt right for a full-length novel. In the end, this book exists because of the people who asked for it. I'm not sure I would have revisited these characters if it weren't for all the messages I received.
Lily is a lot more confident in her choices in this book. What was it like revisiting this character with that newfound confidence and perspective?
I always believed that Lily is one of the strongest characters I've written, and I knew that if her story was to continue, she would have to have the chance to really put that strength on display. I don't want to say more and give away the whole book, but I think everyone will be really happy with the direction her life is moving by the end of the story.
In the first book, we get inside Lily's head with her letters to Ellen. This time around, we get to hear from Atlas. What was the process like writing some of those memorable scenes from the opposite point of view? Atlas and Lily remember things quite differently!
I love revisiting scenes from the past. I find it delightfully challenging to tackle a scene from a different perspective. I've done this with entire books in the past, so the difficult part for me was keeping It Starts With Us mostly in present day, even though I could have rewritten every interaction Lily and Atlas had in It Ends With Us, simply because I find it fun to jump in another character's head.
We get some incredibly important side characters that support Lily and Atlas on their journey to romance. Do you have a favorite character in these books outside of Lily and Atlas?
I do, but I can't really say much about it because these characters aren't introduced in It Ends With Us. But there are two characters in It Starts With Us who form a friendship, and they were so much fun to write. But I don't want to give away more than that.
You've published over 20 books. Does it ever get old? Does this one feel different in any way?
It never gets old, but it does get harder. Every time I finish a book, I think it's the last one I had in me, but I always feel that pull to write more. With It Starts With Us, I knew readers wanted a sequel, but I never thought I'd write one. This originally started as me agreeing to write a short story for the readers about Lily and Atlas, but the more I played around with ideas, the longer those ideas got. It eventually turned into a full-fledged novel, so I just went with it. I'm so glad I did, and I'm so glad readers asked for this one. Otherwise, I probably wouldn't have revisited their world.
You're working on adapting It Ends with Us into a film with Justin Baldoni. What's that been like? Who is your dream cast? Are you a fan of Jane the Virgin? (I am, so I'm thrilled to see two worlds collide and come together on such a cool project.)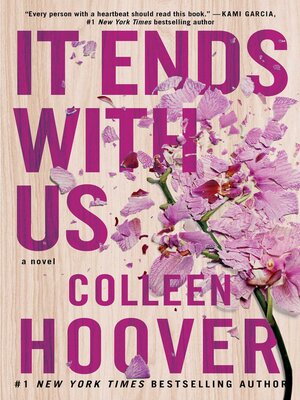 Justin is one of the nicest humans I've had the honor of meeting. I am so excited to see what they do with this adaptation. And yes, I'm a huge fan of Jane the Virgin, so you can imagine my excitement when he reached out about this project.
Your writing delivers maximum emotional impact upon its readers. Where does the inspiration come from for your stories?
I'm not a very emotional person in my everyday life, but I have a theory on why my books seem to be the opposite of my personality. It takes a lot for me to feel angry or upset, or even happy. I'd say I'm even-keeled, so when it comes to writing, I tend to push the emotions really far, until I feel them.
Tell us about how Book Bonanza came to be. Anything you can share for the 2023 event?
Book Bonanza is an extension of The Bookworm Box. It's a charity subscription service I started with my sisters Lin Reynolds and Murphy Fennell in 2015. That turned into a non-profit bookstore, and in 2018, we formed a non-profit signing. To date, the charity has donated almost $2 million to various organizations. All the credit goes to the readers and the authors who have supported it and made it possible to grow and thrive.
Do you have any fond or favorite memories of your local library?
I live in the center of two towns in Texas: Sulphur Springs and Mount Vernon. Both have wonderful libraries, and both have been extremely supportive of my career, before I even had a publisher. I've had signings at both locations, so I will always be grateful for their early support in my career as a writer.
What are you currently writing? Anything you can tell us about?
Currently, I'm attempting to write another thriller. It's been slow going simply because I've been busy with other stuff since finishing up It Starts With Us, but I'm confident it will get there. I don't even have a title for it yet, that's how unproductive I've been for the latter part of 2022.
Is there anything you're currently obsessed with? A TV show? Book? Product?
I am obsessed with anything Bravo TV. I love Below Deck, Vanderpump Rules, anything Housewives-related. It's an addiction. If I'm not writing, I'm probably watching something on Bravo.
Where can our followers find you on social media?
Thanks for asking!
Readers can follow me on Instagram: @colleenhoover
TikTok: @colleenhoover
Facebook: @AuthorColleenHoover
Twitter: @ColleenHoover
Or check for updates at www.colleenhoover.com
Find Colleen's books from your local library on the Libby reading app.
---
The Professional Book Nerds are Jill, Emma and Joe—book nerds who dish out expert book recommendations, author interviews and all things books on their weekly podcast. The Professional Book Nerds podcast is available through iTunes, Google Play, Stitcher, iHeartRadio, TuneIn, Radio FM and anywhere people download their podcasts.