It's no secret that there's love in the stacks. And I'm not talking about the kind in romance novels with a librarian love interest. I'm talking about that great love that for many of us started when we were kids and were told that we could pick out any book we wanted in the library. It's that library love. Times have changed, and libraries have kept pace and changed, too. You can still pick out any book you choose from your physical library, and now, you can also borrow ebooks and audiobooks from home on your phone or tablet with the Libby app. If that's not a lasting love, I don't know what is.
To show your love for your library, tell us about the cool things they're doing to champion reading in the community. We'd love to feature them in the "Library Love" section of Libby Life. Did your library introduce you to Libby in a creative way? Was there a program or class that blew your mind? Do they have a funny or enlightening social media account that's definitely worth a follow? It could be as simple as a fun flyer or as big as a community-wide program.
And, of course, behind every great library are the greatest librarians. If there's a librarian that's changed your life or made you fall in love with reading, we want to hear about them, and possibly reach out to them to get their perspective.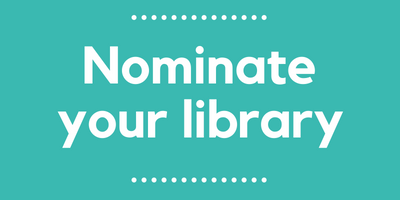 Fill out this brief form to send in your nomination. Your library or librarian could be featured here in an upcoming post. Although not every nomination can be featured, I hope it goes without saying that all libraries and library workers are winners in our book.